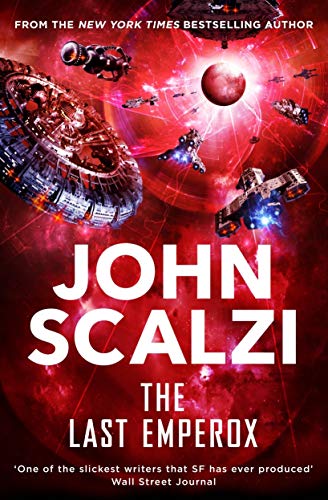 I received this book for free from the publisher.
This did not affect my opinion or the content of this review.
Summary
Entire star systems, and billions of people, are about to be stranded. The pathways that link the stars are collapsing faster than anyone expected, accelerating the fall of civilization. But though the evidence is insurmountable, many are in denial. And some even attempt to profit from the final days of this golden age.
Emperox Grayland II has wrested control of the empire from her enemies. But even as she works to save her people, others seek power. And they will make a final, desperate push to topple her from her throne. Grayland and her depleted allies must use every tool at their disposal to save themselves and humanity – yet it still may not be enough.
Will Grayland become the saviour of her civilization . . . or the last emperox to wear the crown?
My thoughts
Who would have expected this book to make me laugh so much? NOT ME. I should have known better though, it's a John Scalzi book after all. Considering where this series had been going, with what was at stake, and everything just screaming "DOOMED!", I certainly didn't expect to laugh this much. I should have known better. In true Scalzi fashion, this books comes with this amused undertone in its narration and even when presenting you with a death/murder right from the start, it also makes you laugh right from the get go.
My favorite part was definitely that EVERYONE seemed doomed big time. There just didn't seem to be a way out of any of it. It looked like humanity was about to bite the dust and I couldn't wait to find out if and/or how all that was resolved. That all the big players only created more of a mess and fucked everything up (one wonders where Scalzi draws his inspiration from, hmmm) was just hilarious.
Talking of players: having POVs from lots of different factions, those who actively work against each other, yet still getting surprised about their plans and schemes, and what that resulted in makes this book that much more fun. I already enjoyed all these characters, this mix of diverse people, in the previous books but especially now that they really share a common goal (surviving) while still having different objectives. Everyone getting in the way of each other's plans is just A+ entertainment, even if it the outcome of all that is quite grim.
Really, the only "bad" thing I can say about this book is that I should not have laughed this hard during a story about humanity being doomed. And that really isn't a bad thing at all. The Last Emperox is a great and fun conclusion to this trilogy, with the best possible outcome that was nothing like what I expected. I'm glad that I can now recommend the trilogy as a whole to everyone.