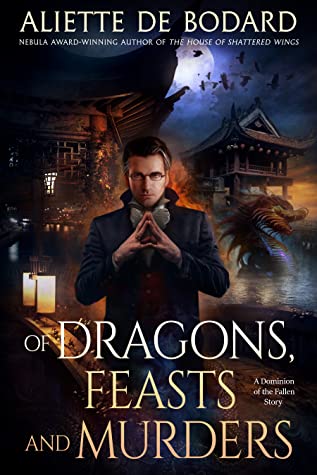 I received this book for free from the publisher.
This did not affect my opinion or the content of this review.
Summary
Lunar New Year should be a time for familial reunions, ancestor worship, and consumption of an unhealthy amount of candied fruit.
But when dragon prince Thuan brings home his brooding and ruthless husband Asmodeus for the New Year, they find not interminable family gatherings, but a corpse outside their quarters. Asmodeus is thrilled by the murder investigation; Thuan, who gets dragged into the political plotting he'd sworn off when he left, is less enthusiastic.
It'll take all of Asmodeus's skill with knives, and all of Thuan's diplomacy, to navigate this one—as well as the troubled waters of their own relationship….
My thoughts
Set in the same world as her Dominion of the Fallen trilogy, a world filled with Fallen angels and dragons, I was all too eager to read another story in this magical, gothic Paris, especially when it's about two unlike husbands tackling a murder investigation.
And what a delightful tale of a bookish dragon prince, and his murderous husband it turned out to be. I'm always here for more married couples, and Thuan and Asmodeus' dynamics had me grinning from ear to ear. There's just nothing that beats that kind of relationship, especially the hard-edged, brutal-seeming guy being all protective over his husband, ready to just grab him and run back home. Also: trouble at court and (kind of) outsiders having to navigate the politics while trying to solve a murder, made even better if one of the husbands has to keep the other from murdering someone as well? Right up my alley.
Of Dragons, Feats and Murders is yet another great novella by one of my favorite authors. Stabbing, swoon-worthy kissing and banter in a Vietnamese inspired world, this novella has everything I need.
Note: While being set in the same world as the Dominion of the Fallen trilogy and chronologically being set after the third book, this novella can be read independently and as a standalone!