Tour the World in 30 Books is a blog tour hosted by Sammie @ The Bookwyrm's Den in support of her local public library's Diverse Book Drive. It's in conjunction with a Diverse Book Drive hosted by the CCPL—a small, rural library in an area with a high poverty rate and a very homogeneous population, where people rarely have the means to travel or experience new perspectives. However, the library doesn't believe that should stop people from learning more about the world around them, so they're running a Diverse Book Drive through the month of September in an attempt to bring the rest of the world to the county instead. With a focus on MG and YA books, the CCPL aims to expose especially its young patrons to new and diverse perspectives and cultures.
Make sure to check out how to help too at the end of the post!
Now let me introduce you to one of my absolute favorite books, A Pale Light in the Black by K.B. Wagers, an adult science fiction / space opera novel (that's definitely suitable for YA readers as well)!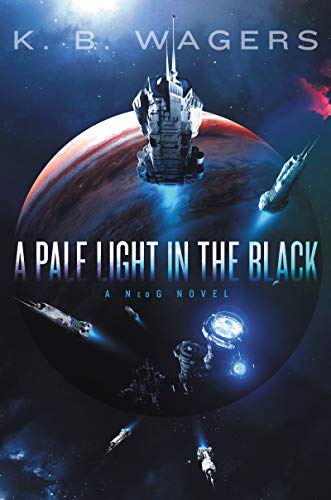 For the past year, their close loss in the annual Boarding Games has haunted Interceptor Team: Zuma's Ghost. With this year's competition looming, they're looking forward to some payback—until an unexpected personnel change leaves them reeling. Their best swordsman has been transferred, and a new lieutenant has been assigned in his place.

Maxine Carmichael is trying to carve a place in the world on her own—away from the pressure and influence of her powerful family. The last thing she wants is to cause trouble at her command on Jupiter Station. With her new team in turmoil, Max must overcome her self-doubt and win their trust if she's going to succeed. Failing is not an option—and would only prove her parents right.

But Max and the team must learn to work together quickly. A routine mission to retrieve a missing ship has suddenly turned dangerous, and now their lives are on the line. Someone is targeting members of Zuma's Ghost, a mysterious opponent willing to kill to safeguard a secret that could shake society to its core . . . a secret that could lead to their deaths and kill thousands more unless Max and her new team stop them.

Rescue those in danger, find the bad guys, win the Games. It's all in a day's work at the NeoG.
5 reasons why you should join the team of Zuma's Ghost!
At the beginning of the book, one of the protagonists, Max, only just joins the team of Zuma's Ghost so you do not only join the crew by reading about them, but also get some first-hand experience of what it is like to be a new member to the team.
They welcome you with open arms
This team will make you feel welcome and part of the team right from the get-go. They immediately call you their own and treat you as such, you're family now. Sure, there might always be someone on a team you don't get along with right from the start, but give them some time, they'll get there. A new team member always disrupts the old routine and some people need time to get used it BUT once they do get there? Their friendship and love mean all the more.
Crew is family
This isn't just a team that works well together and where everyone gets along, is friendly with each other. Nope, these folks are family. They protect each other, they care about each other, they fight for each other and raise hell if one of them in danger, even "just" the newest team member. Once you're crew, you're part of the family.
We respect our queers
While Zuma's Ghost is part of a world that generally respects and doesn't discriminate against its queer people, the crew itself is queer AF and welcomes any fellow queers with open arms. With non-binary, lesbian, ace and pan crew members, you certainly won't be the token queer team mate, should you join.
One of the coolest jobs ever!?
Not only do you get to fly on a space ship, saving peoples' lives, taking down criminals, feeling good about yourself (and yeah, maybe risking your own life, but that's just comes with the job XD), your weapon of choice will also be a sword! How cool is that!? And because Zuma's Ghost's crew is one hell of a team, they also take part in the annual Boarding Games, a super fun sports competition that just proves how well this team works together. And if you now go "sports? but I don't like sports!", don't worry, a) this is totally different and b) no one forces you into anything you aren't comfortable with, you'll find the discipline you're good at and maybe while you're add it, you'll find new hidden talents too.
It never gets boring with this crew
Super exciting job aside, this team is just a lot of fun to hang out with and you will have the time of your life both on and off-world with them. Whether it's watching their favorite shows together or going to a bar (and just MAYBE getting into a bar fight *ahem*), it never gets boring around these folks. If they are not too busy saving thousands from dying that is…
Back to Business: How you can help
CCL's Wishlist
You can donate books from their wishlist. Hardcover books are preferred.
The book donations are used at the discretion of the library.
Amazon / Book Depository / Bookshop
Note: If you order from Bookshop, please send a message to sammie@thebookwyrmsden.com so the book can be removed to avoid duplicate purchases, as the site does not automatically remove them.
Other ways to donate