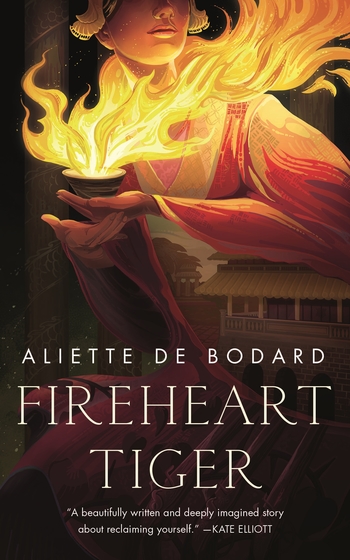 Summary
Fire burns bright and has a long memory….
Quiet, thoughtful princess Thanh was sent away as a hostage to the powerful faraway country of Ephteria as a child. Now she's returned to her mother's imperial court, haunted not only by memories of her first romance, but by worrying magical echoes of a fire that devastated Ephteria's royal palace.
Thanh's new role as a diplomat places her once again in the path of her first love, the powerful and magnetic Eldris of Ephteria, who knows exactly what she wants: romance from Thanh and much more from Thanh's home. Eldris won't take no for an answer, on either front. But the fire that burned down one palace is tempting Thanh with the possibility of making her own dangerous decisions.
Can Thanh find the freedom to shape her country's fate—and her own?
My thoughts
Call me biased because I just always end up loving Aliette de Bodard's stories, be it fantasy or scifi, be it soft princesses or sentient space ships. "Political intrigue / court fantasy but make it queer" is just one of Aliette de Bodard's trademarks. If I want queer court intrigue, I pick up one of her stories. So it comes to no one's surprise that this queer fantasy is "just" another one to make the long list of stories of hers that I love (one that I don't like has yet to appear. I doubt it ever will).
I gotta say, and I bet I'm not the only one, but I tend to stay away from love triangles. Many bad apples have just ruined that particular thing for me. So upon hearing that Fireheart Tiger would feature one, I should have been less inclined to read this one but hey, it's a SAPPHIC love triangle and Aliette de Bodard wrote it, so it could really only go one way, which is me liking it and that is exactly what happened. This specific love triangle has all kinds of layers, it's taking you places and it's about so much more than just the love between these three women but also about Thanh's life and her choices in general.
Just like that love triangle stands for more than just a relationship between partners, so does the theme of fire. While fire and its possibilities and consequences can be seen as a stand-in for Thanh's troubles, it also literally is a big part of Thanh's life and in an interesting, twisty way too, one that I absolutely loved.
Fireheart Tiger is for the most part a kind of sad and not really dark but somewhat depressing story, with Thanh having to fight for herself on many fronts, but nonetheless it is a story that made my queer heart happy which is something I can always count on when picking up one of Aliette's stories and this one was no exception.