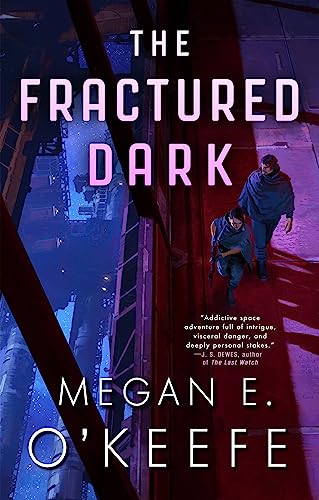 I received this book for free from the publisher.
This did not affect my opinion or the content of this review.
Summary
Naira and Tarquin have escaped vicious counter-revolutionaries, misprinted monsters, and the pull of a dying planet. Now, bound together to find the truth behind the blight that has been killing habitable planets, they need to hunt out the Mercator family secrets.
But, when the head of Mercator disappears, taking the universe's remaining supply of starship fuel with him, chaos breaks loose between the ruling families. Naira's revolution must be put aside for the sake of humanity's immediate survival.
My thoughts
The Blighted Stars was a wild start to a new series, and The Fractured Dark easily kept up with it if not being even more intense. In true O'Keefe fashion, we have plot twists and mind fuckery galore with more and more threats piling up and the situation getting more dire. Overall, just everything I loved in the first book was in some way intensified in its sequel.
A woman in possession of a bomb is in want of reason to use it.
One of my favorite aspects of the series is the technology of printing and enhancing bodies and especially its trans inclusivity. The technology also came with its somewhat creepy downsides and they definitely turned up a notch in The Fractured Dark. We see a lot more of bad actors exploiting and manipulating it for their own needs as well as direct, large scale threats from outside, which turned up the fear of loosing control of your own body, of yourself and your memories, your person. Stories that fuck around with memories are always a favorite of mine and the threat felt so very real in this one.
Another thing I really enjoy is the relationship dynamics in this series. While the first book had me mostly gush about its enemies to lovers pairing (where the power imbalance was so well handled) and its m/f friendships, The Fractured Dark dives deeper into a very different kind of relationship. Here is this absolute manipulative, demanding, possessive stalker who was so well written, they freaked me the fuck out. Definitely one of my new favorite best worst villains as of yet.
You would think having read quite a few Megan E. O'Keefe books, one would be used to her amazing plots twists by now, but the absolute mind fuckery of this book? The whole second half had me SCREAMING after almost every single chapter (and I'm very glad I had a buddy to read this with, to share and keyboard smash with). You lose complete trust in everyone and everything and just don't know what is real anymore, what to believe to be true.
The Fractured Dark is just as additive if not more than the first book, and had me dizzy with its plots twists. The threats seem to increase with each book and have me worried what's to come in the third book. Yet another fantastic space adventure that had me on the edge of my seat from start to finish.