While March was a bit of a sad month for queer releases (at least compared to other months in 2021 so far), April is back at it again with a long list of amazing books. We're once again getting our fair share of sapphic releases but also trans and non-binary rep, as well as some queer men, who always come a bit short. I'm especially happy about the two stories featuring polyamorous relationships.
(For even more queer adult SFF releases, check out my full list of queer SFF releases in 2021)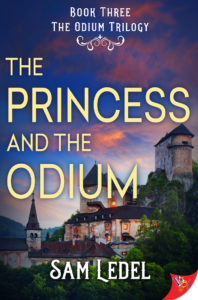 The Princess and the Odium (The Odium Trilogy #3) by Sam Ledel
The kingdom of Venostes is in upheaval.
Her sister's cure in hand, Jastyn races home to find her family in chains. The Dark Fae has grown more powerful, and malevolent forces reign. When Jastyn is forced to work alongside the Diarmaids, things become even more complicated.
Aurelia is dragged back to Venostes to confront not only her brother's killer, but her own parents' dark past. As evil takes hold of her kingdom, Aurelia fights to destroy the Dark Fae and his masters once and for all.
Together, Jastyn and Aurelia face unimaginable dangers. Can they take back Venostes? Even more, can two people as different as they­—a princess and an Odium—be together? Are they destined for one another, as Aurelia hopes? Or, as Jastyn fears, are they simply impossible?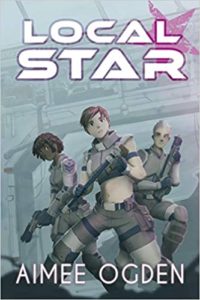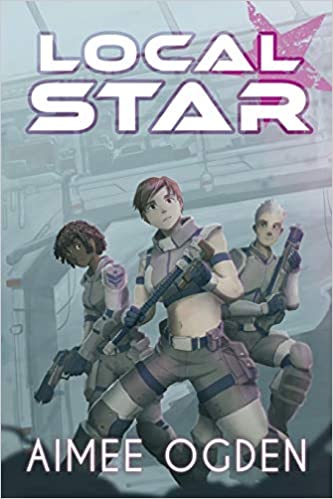 Local Star by Aimee Ogden
Local Star is a polyamorous space opera with a fast-paced, action-packed adventure that's sure to punch you in the feels. It follows guttergirl Triz as she saves her hub from invaders from the Cyberbionautic Alliance, all the while negotiating her rekindled romance with Kalo, her ex who's returned from battle and won't stop hanging around the wrenchworks.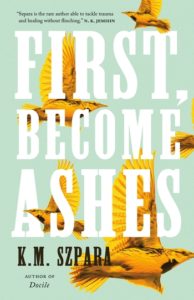 First, Become Ashes by K.M. Szpara
fantasy
gay MC
m/m
non-binary MC
polyamorous
The Fellowship raised Lark to kill monsters.
His partner betrayed them to the Feds.
But Lark knows his magic is real, and he'll do anything to complete his quest.
For thirty years, the Fellowship of the Anointed isolated its members, conditioning them to believe that pain is power. That magic is suffering. That the world beyond the fence has fallen prey to monsters. But when their leader is arrested, all her teachings come into question.
Those touched by the Fellowship face a choice: how will they adjust to the world they were taught to fear, and how will they relate to the cult's last crusader, Lark? For Kane, survival means rejecting the magic he and his lover suffered for. For Deryn, the cult's collapse is an opportunity to prove they are worth as much as their Anointed brother. For Calvin, lark is the alluring embodiment of the magic he's been seeking his entire life.
(NOTE: contains explicit sadomasochism and sexual content, including rape)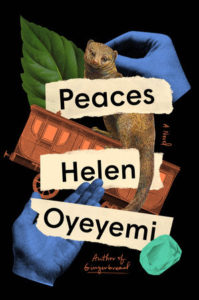 Peaces by Helen Oyeyemi
When Otto and Xavier Shin declare their love, an aunt gifts them a trip on a sleeper train to mark their new commitment—and to get them out of her house. Setting off with their pet mongoose, Otto and Xavier arrive at their sleepy local train station, but quickly deduce that The Lucky Day is no ordinary locomotive. Their trip on this former tea-smuggling train has been curated beyond their wildest imaginations, complete with mysterious and welcoming touches, like ingredients for their favorite breakfast. They seem to be the only people onboard, until Otto discovers a secretive woman who issues a surprising message. As further clues and questions pile up, and the trip upends everything they thought they knew, Otto and Xavier begin to see connections to their own pasts, connections that now bind them together.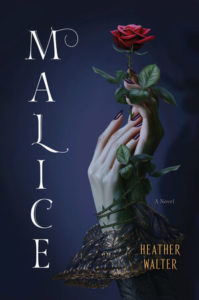 Malice by Heather Walter
Once upon a time, there was a wicked fairy who, in an act of vengeance, cursed a line of princesses to die. A curse that could only be broken by true love's kiss.
You've heard this before, haven't you? The handsome prince. The happily ever after.
Utter nonsense.
Let me tell you, no one in Briar actually cares about what happens to its princesses. Not the way they care about their jewels and elaborate parties and charm-granting elixirs. I thought I didn't care, either.
Until I met her.
Princess Aurora. The last heir to Briar's throne. Kind. Gracious. The future queen her realm needs. One who isn't bothered that I am Alyce, the Dark Grace, abhorred and feared for the mysterious dark magic that runs in my veins. Humiliated and shamed by the same nobles who pay me to bottle hexes and then brand me a monster. Aurora says I should be proud of my gifts. That she . . . cares for me. Even though a power like mine was responsible for her curse.
But with less than a year until that curse will kill her, any future I might see with Aurora is swiftly disintegrating—and she can't stand to kiss yet another insipid prince. I want to help her. If my power began her curse, perhaps it's what can lift it. Perhaps together we could forge a new world.
Nonsense again. Because we all know how this story ends, don't we? Aurora is the beautiful princess. And I—
I am the villain.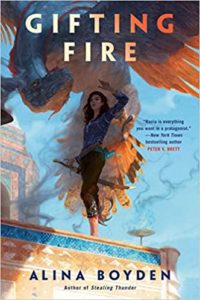 Gifting Fire (Stealing Thunder #2) by Alina Boyden
(epic) fantasy
trans(fem) MC
Although at long last Razia Khan has found peace with herself and love with her prince, Arjun, her trials are far from over. In order to save her prince and his city from certain destruction, Razia made a deal with the devil–her father, the Sultan of Nizam. Now the bill has come due.
Razia must secure the province of Zindh, a land surrounded by enemies, and loyal to a rebel queen who has survived her father's purge. But when her old tormentor Prince Karim invades her new home and forces her into a marriage alliance, Razia finds herself trapped in the women's quarters of a foreign palace, with her beloved Prince Arjun exiled from her side.
Now, in order to free herself, and her province, from Karim's clutches, she must call upon all of her training as a royal princess, a cunning courtesan, and a daring thief to summon new allies and old friends for a battle that will decide her fate, and the fate of an empire.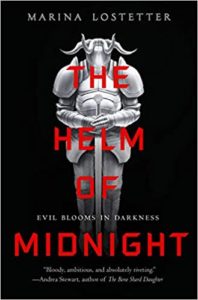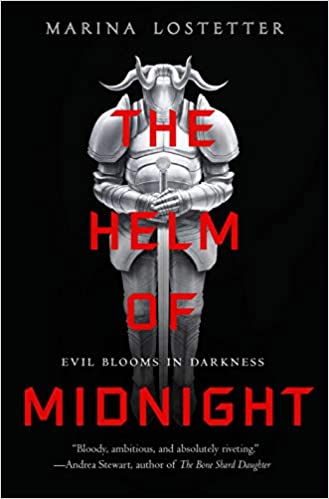 The Helm of Midnight by Marina Lostetter
In a daring and deadly heist, thieves have made away with an artifact of terrible power—the death mask of Louis Charbon. Made by a master craftsman, it is imbued with the spirit of a monster from history, a serial murderer who terrorized the city.
Now Charbon is loose once more, killing from beyond the grave. But these murders are different from before, not simply random but the work of a deliberate mind probing for answers to a sinister question.
It is up to Krona Hirvath and her fellow Regulators to enter the mind of madness to stop this insatiable killer while facing the terrible truths left in his wake.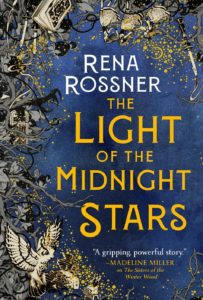 The Light of Midnight Stars by Rena Rossner
historical fantasy
f/f
bi MC
Deep in the Hungarian woods, the sacred magic of King Solomon lives on in his descendants. Gathering under the midnight stars, they perform small miracles and none are more gifted than the great Rabbi Isaac and his three daughters.
Hannah, bookish and calm, can coax plants to grow even when the weather is bitterly cold. Sarah, defiant and strong, can control the impulsive nature of fire. And Levana, the fey one, can read the path of the stars to decipher their secrets.
But darkness is creeping across Europe, threatening the lives of every Jewish person in every village. Each sister will have to make an impossible choice in an effort to survive – and change the fate of their family forever.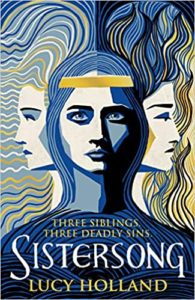 Sistersong by Lucy Holland
historical fantasy
GNC MC
King Cador's children inherit a land abandoned by the Romans, torn by warring tribes. Riva can cure others, but can't heal her own scars. Keyne battles to be seen as the king's son, although born a daughter. And Sinne dreams of love, longing for adventure.
All three fear a life of confinement within the walls of the hold, their people's last bastion of strength against the invading Saxons. However, change comes on the day ash falls from the sky – bringing Myrdhin, meddler and magician. The siblings discover the power that lies within them and the land. But fate also brings Tristan, a warrior whose secrets will tear them apart.
Riva, Keyne and Sinne become entangled in a web of treachery and heartbreak, and must fight to forge their own paths. It's a story that will shape the destiny of Britain.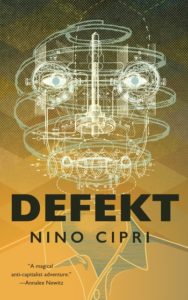 Defekt by Nino Cipri
Derek is LitenVärld's most loyal employee. He lives and breathes the job, from the moment he wakes up in a converted shipping container at the edge of the parking lot to the second he clocks out of work 18 hours later. But after taking his first ever sick day, his manager calls that loyalty into question. An excellent employee like Derek, an employee made to work at LitenVärld, shouldn't need time off.
To test his commitment to the job, Derek is assigned to a special inventory shift, hunting through the store to find defective products. Toy chests with pincers and eye stalks, ambulatory sleeper sofas, killer mutant toilets, that kind of thing. Helping him is the inventory team — four strangers who look and sound almost exactly like him. Are five Dereks better than one?
While the list has lots of fantasy and not enough scifi for my taste, there is still a lot of books I'm looking forward to reading in April. Some I've also already had the chance to read and they were indeed amazing. April 2021 is another great month for queer SFF.
Which of these are you going to read?