May is a truly special month, for me personally, when it comes to queer releases. Not only do we have a once again truly epic and quite long list of queer science fiction and fantasy titles, but May also marks the release of one of my new favorite books, Firebreak, which has a very specific aroace rep that I hadn't seen before and made me feel seen.
May has a wide variety of queer books to offer in both fantasy and science fiction, from murder over giant robots to KNIGHTS ON MOTORBIKES. Yes, you read that right. This is a truly wild month and I'm extremely excited about every single one of these books.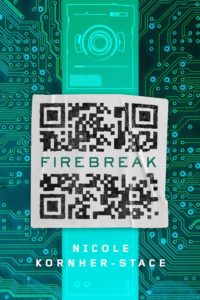 Firebreak by  Nicole Kornher-Stace
New Liberty City, 2134.
Two corporations have replaced the US, splitting the country's remaining forty-five states (five have been submerged under the ocean) between them: Stellaxis Innovations and Greenleaf. There are nine supercities within the continental US, and New Liberty City is the only amalgamated city split between the two megacorps, and thus at a perpetual state of civil war as the feeds broadcast the atrocities committed by each side.
Here, Mallory streams Stellaxis's wargame SecOps on BestLife, spending more time jacked in than in the world just to eke out a hardscrabble living from tips. When a chance encounter with one of the game's rare super-soldiers leads to a side job for Mal—looking to link an actual missing girl to one of the SecOps characters. Mal's sudden burst in online fame rivals her deepening fear of what she is uncovering about BestLife's developer, and puts her in the kind of danger she's only experienced through her avatar.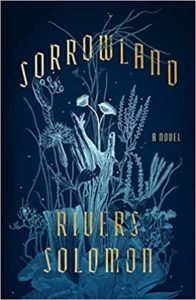 Sorrowland by Rivers Solomon
Vern—seven months pregnant and desperate to escape the strict religious compound where she was raised—flees for the shelter of the woods. There, she gives birth to twins, and plans to raise them far from the influence of the outside world.
But even in the forest, Vern is a hunted woman. Forced to fight back against the community that refuses to let her go, she unleashes incredible brutality far beyond what a person should be capable of, her body wracked by inexplicable and uncanny changes.
To understand her metamorphosis and to protect her small family, Vern has to face the past, and more troublingly, the future—outside the woods. Finding the truth will mean uncovering the secrets of the compound she fled but also the violent history in America that produced it.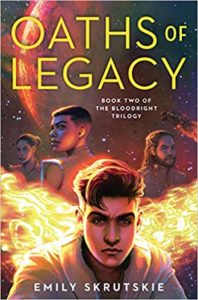 Oaths of Legacy (The Bloodright Trilogy #2) by Emily Skrutskie
Gal's destiny has always been clear: Complete his training at the military academy, prove his worth as a royal successor, and ascend to the galactic throne. When a failed assassination plot against Gal sends him and Ettian—his infuriatingly enticing roommate—on a mad dash through the stars, Gal's plans are momentarily disrupted. But he was born to rule the Umber Empire, and with Ettian by his side, nothing will stop him from returning home and crushing the growing insurgency threatening his family's power.
Yet nothing is ever that simple in war—or in love. Gal is captured by the rebellion during a skirmish and faces public execution, his grand fate cut short. To save Gal's life, Ettian does the unthinkable: He reveals himself as the secret heir to the fallen Archon Empire and rightful leader of the rebellion . . . and, therefore, Gal's sworn enemy. Now a political hostage in this newly reignited conflict, Gal must use his limited resources to sabotage the rebellion from within, concoct an escape plan, and return to the empire he's destined to lead. And if that means taking down the man he thought he loved?
All the better.
We are Satellites by Sarah Pinsker
scifi / literary fiction
ff
Val and Julie just want what's best for their kids, David and Sophie. So when teenage son David comes home one day asking for a Pilot, a new brain implant to help with school, they reluctantly agree. This is the future, after all.
Soon, Julie feels mounting pressure at work to get a Pilot to keep pace with her colleagues, leaving Val and Sophie part of the shrinking minority of people without the device.
Before long, the implications are clear, for the family and society: get a Pilot or get left behind. With government subsidies and no downside, why would anyone refuse? And how do you stop a technology once it's everywhere? Those are the questions Sophie and her anti-Pilot movement rise up to answer, even if it puts them up against the Pilot's powerful manufacturer and pits Sophie against the people she loves most.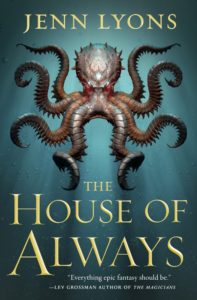 The House of Always (A Chorus of Dragons #4) by Jenn Lyons
What if you were imprisoned for all eternity?
In the aftermath of the Ritual of Night, everything has changed.
The Eight Immortals have catastrophically failed to stop Kihrin's enemies, who are moving forward with their plans to free Vol Karoth, the King of Demons. Kihrin has his own ideas about how to fight back, but even if he's willing to sacrifice everything for victory, the cost may prove too high for his allies.
Now they face a choice: can they save the world while saving Kihrin, too? Or will they be forced to watch as he becomes the very evil they have all sworn to destroy.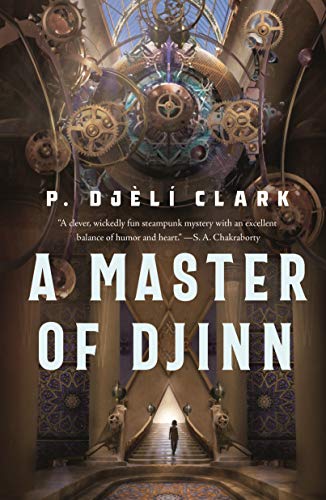 A Master of Djinn (Fatma el-Sha'arawi #3) by P. Djèlí Clark
Cairo, 1912: Though Fatma el-Sha'arawi is the youngest woman working for the Ministry of Alchemy, Enchantments and Supernatural Entities, she's certainly not a rookie, especially after preventing the destruction of the universe last summer.
So when someone murders a secret brotherhood dedicated to one of the most famous men in history, al-Jahiz, Agent Fatma is called onto the case. Al-Jahiz transformed the world forty years ago when he opened up the veil between the magical and mundane realms, before vanishing into the unknown. This murderer claims to be al-Jahiz, returned to condemn the modern age for its social oppressions. His dangerous magical abilities instigate unrest in the streets of Cairo that threaten to spill over onto the global stage.
Alongside her Ministry colleagues and a familiar person from her past, Agent Fatma must unravel the mystery behind this imposter to restore peace to the city—or face the possibility he could be exactly who he seems…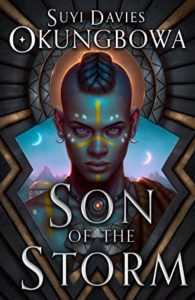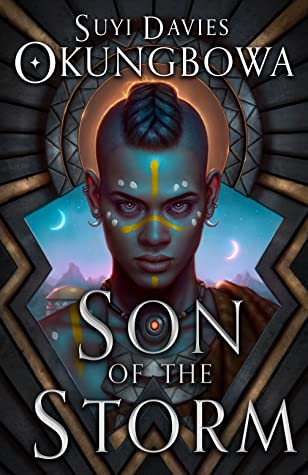 Son of the Storm by Suyi Davies Okungbowa
In the ancient. city of Bassa, Danso is a clever scholar on the cusp of achieving greatness—only he doesn't want it. Instead, he prefers to chase forbidden stories about what lies outside the city walls. The Bassai elite claim there is nothing of interest. The city's immigrants are sworn to secrecy.
But when Danso stumbles across a warrior wielding magic that shouldn't exist, he's put on a collision course with Bassa's darkest secrets. Drawn into the city's hidden history, he sets out on a journey beyond its borders. And the chaos left in the wake of his discovery threatens to destroy the empire.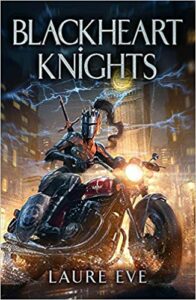 Blackheart Knights by Laure Eve
(urban) fantasy
sapphic MC
gay, bi, non-binary SC
Imagine Camelot but in Gotham: a city where Arthurian knights are the celebrities of the day, riding on motorbikes instead of horses and competing in televised fights for fame and money.
The Lights of Prague by Nicole Jarvis
(historical) fantasy
bi MC (m/f relationship)
In the quiet streets of Prague all manner of mysterious creatures lurk in the shadows. Unbeknownst to its citizens, their only hope against the tide of predators are the dauntless lamplighters – secret elite of monster hunters whose light staves off the darkness each night. Domek Myska leads a life teeming with fraught encounters with the worst kind of evil: pijavice, bloodthirsty and soulless vampiric creatures. Despite this, Domek finds solace in his moments spent in the company of his friend, the clever and beautiful Lady Ora Fischerová – a widow with secrets of her own.
When Domek finds himself stalked by the spirit of the White Lady – a ghost who haunts the baroque halls of Prague castle – he stumbles across the sentient essence of a will-o'-the-wisp captured in a mysterious container. Now, as its bearer, Domek wields its power, but the wisp, known for leading travellers to their deaths, will not be so easily controlled.
After discovering a conspiracy amongst the pijavice that could see them unleash terror on the daylight world, Domek finds himself in a race against those who aim to twist alchemical science for their own dangerous gain.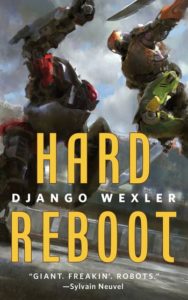 Hard Reboot by Django Wexler
Kas is a junior researcher on a fact-finding mission to old Earth. But when a con-artist tricks her into wagering a large sum of money belonging to her university on the outcome of a manned robot arena battle she becomes drawn into the seedy underworld of old Earth politics and state-sponsored battle-droid prizefights.
Is it time to get back to the books, yet?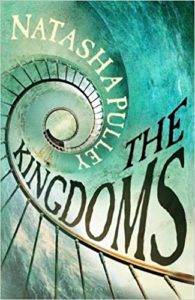 The Kingdoms by Natasha Pulley
(aternate) historical fiction
gay MC
Come home, if you remember.
The postcard has been held at the sorting office for ninety-one years, waiting to be delivered to Joe Tournier. On the front is a lighthouse – Eilean Mor, in the Outer Hebrides.
Joe has never left England, never even left London. He is a British slave, one of thousands throughout the French Empire. He has a job, a wife, a baby daughter.
But he also has flashes of a life he cannot remember and of a world that never existed – a world where English is spoken in England, and not French.
And now he has a postcard of a lighthouse built just six months ago, that was first written nearly one hundred years ago, by a stranger who seems to know him very well.
Joe's journey to unravel the truth will take him from French-occupied London to a remote Scottish island, and back through time itself as he battles for his life – and for a very different future.
(For even more queer adult SFF releases, check out my full list of queer SFF releases in 2021)
Which of these are you most excited to read?