If you thought the list of queer January 2021 releases was long, better prepare yourself for February, because we get even more queer releases! So many, I have no idea how/when to read them all. We're truly blessed right now with lots of amazing queer stories, some debuts, some scifi, some fantasy, many of them not only featuring queer main characters, but also queernorm worlds, including different approaches to gender and  a push against the idea of knowing someone's gender on sight.
(For even more queer adult SFF releases, check out my full list of queer SFF releases in 2021)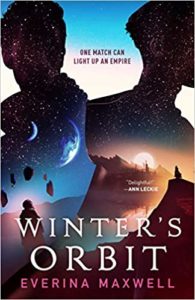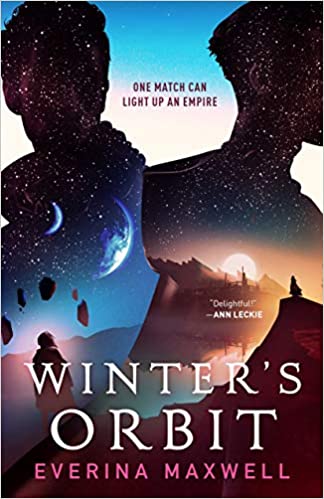 Winter's Orbit by Everina Maxwell
(CW: abusive relationship in one character's past)
A famously disappointing minor royal and the Emperor's least favorite grandchild, Prince Kiem is summoned before the Emperor and commanded to renew the empire's bonds with its newest vassal planet. The prince must marry Count Jainan, the recent widower of another royal prince of the empire.
But Jainan suspects his late husband's death was no accident. And Prince Kiem discovers Jainan is a suspect himself. But broken bonds between the Empire and its vassal planets leaves the entire empire vulnerable, so together they must prove that their union is strong while uncovering a possible conspiracy.
Their successful marriage will align conflicting worlds.
Their failure will be the end of the empire.
The Witch's Heart by Genevieve Gornichec
Angrboda's story begins where most witches' tales end: with a burning. A punishment from Odin for refusing to provide him with knowledge of the future, the fire leaves Angrboda injured and powerless, and she flees into the farthest reaches of a remote forest. There she is found by a man who reveals himself to be Loki, and her initial distrust of him transforms into a deep and abiding love.
Their union produces three unusual children, each with a secret destiny, who Angrboda is keen to raise at the edge of the world, safely hidden from Odin's all-seeing eye. But as Angrboda slowly recovers her prophetic powers, she learns that her blissful life—and possibly all of existence—is in danger.
With help from the fierce huntress Skadi, with whom she shares a growing bond, Angrboda must choose whether she'll accept the fate that she's foreseen for her beloved family…or rise to remake their future. From the most ancient of tales this novel forges a story of love, loss, and hope for the modern age.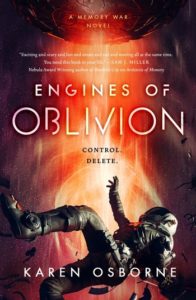 Engines of Oblivion (The Memory War #2) by Karen Osborne
Natalie Chan gained her corporate citizenship, but barely survived the battle for Tribulation.
Now corporate has big plans for Natalie. Horrible plans.
Locked away in Natalie's missing memory is salvation for the last of an alien civilization and the humans they tried to exterminate. The corporation wants total control of both—or their deletion.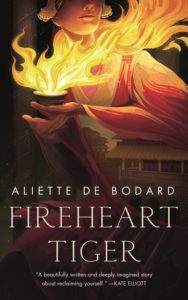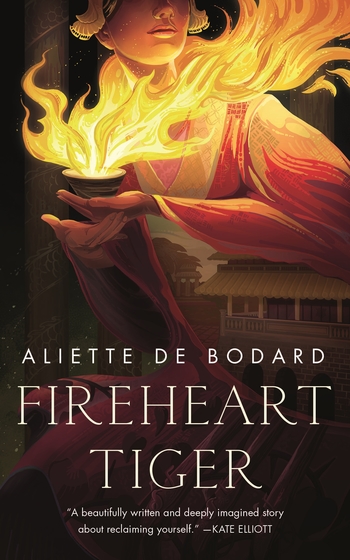 Fireheart Tiger by Aliette de Bodard
(CW: abusive relationship)
Fire burns bright and has a long memory….
Quiet, thoughtful princess Thanh was sent away as a hostage to the powerful faraway country of Ephteria as a child. Now she's returned to her mother's imperial court, haunted not only by memories of her first romance, but by worrying magical echoes of a fire that devastated Ephteria's royal palace.
Thanh's new role as a diplomat places her once again in the path of her first love, the powerful and magnetic Eldris of Ephteria, who knows exactly what she wants: romance from Thanh and much more from Thanh's home. Eldris won't take no for an answer, on either front. But the fire that burned down one palace is tempting Thanh with the possibility of making her own dangerous decisions.
Can Thanh find the freedom to shape her country's fate—and her own?
Voidbreaker (The Keepers #3) by David Dalglish
(epic) fantasy
queernorm
trans MC
(Note: the trans MC is  a new character and wasn't in the previous books!)
Monsters have retaken the capital city of Londheim and claimed it for themselves. Humanity, fearful of being pushed out for good, has reacted with violence and destruction, and peace between the two races seems all but impossible. Devin will need to bring all his skills to bear in order to find a solution. But the greatest threat to humanity's safety may well be closer than he expects. Because his sister is the most powerful priestess the world has ever seen . . . and she's fighting for the monsters.
The fate of all races, human and magical, rests in their hands, and the only person standing in their way is each other.
The Velocity of Revolution by Marshall Ryan Maresca
(urban) fantasy
pansexual MC
Ziaparr: a city being rebuilt after years of mechanized and magical warfare, the capital of a ravaged nation on the verge of renewal and self-rule. But unrest foments as undercaste cycle gangs raid supply trucks, agitate the populace and vandalize the city. A revolution is brewing in the slums and shantytowns against the occupying government, led by a voice on the radio, connected through forbidden magic.
Wenthi Tungét, a talented cycle rider and a loyal officer in the city patrol, is assigned to infiltrate the cycle gangs. For his mission against the insurgents, Wenthi must use their magic, connecting his mind to Nália, a recently captured rebel, using her knowledge to find his way into the heart of the rebellion.
Wenthi's skill on a cycle makes him valuable to the resistance cell he joins, but he discovers that the magic enhances with speed. Every ride intensifies his connection, drawing him closer to the gang he must betray, and strengthens Nália's presence as she haunts his mind.
Wenthi is torn between justice and duty, and the wrong choice will light a spark in a city on the verge of combustion.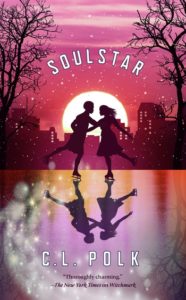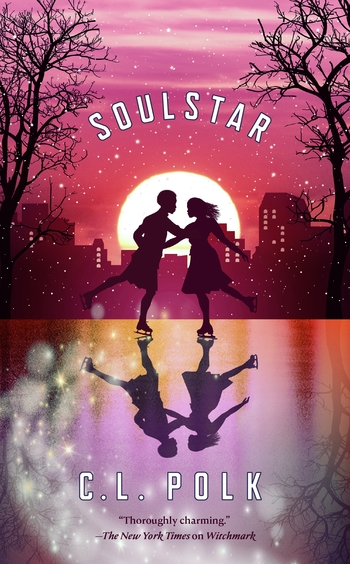 Soulstar (Witchmark #3) by C.L. Polk
For years, Robin Thorpe has kept her head down, staying among her people in the Riverside neighborhood and hiding the magic that would have her imprisoned by the state. But when Grace Hensley comes knocking on Clan Thorpe's door, Robin's days of hiding are at an end. As freed witches flood the streets of Kingston, scrambling to reintegrate with a kingdom that destroyed their lives, Robin begins to plot a course that will ensure a freer, juster Aeland. At the same time, she has to face her long-bottled feelings for the childhood love that vanished into an asylum twenty years ago.
Can Robin find happiness among the rising tides of revolution? Can Kingston survive the blizzards that threaten, the desperate monarchy, and the birth throes of democracy? Find out as the Kingston Cycle comes to an end.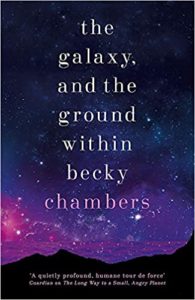 The Galaxy, and the Ground Within (Wayfarers #4) Becky Chambers
space opera
queernorm world
When a freak technological failure halts traffic to and from the planet Gora, three strangers are thrown together unexpectedly, with seemingly nothing to do but wait.
Pei is a cargo runner at a personal crossroads, torn between her duty to her people, and her duty to herself.
Roveg is an exiled artist, with a deeply urgent, and longed for, family appointment to keep.
Speaker has never been far from her twin but now must endure the unendurable: separation.
Under the care of Ouloo, an enterprising alien, and Tupo, her occasionally helpful child, the trio are compelled to confront where they've been, where they might go, and what they might be to one another.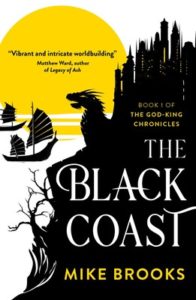 The Black Coast (The God-King Chronicles #1) by Mike Brooks
(epic) fantasy
queernorm world
queer MCs
When the citizens of Black Keep see ships on the horizon, terror takes them because they know who is coming: for generations, the keep has been raided by the fearsome clanspeople of Tjakorsha. Saddling their war dragons, Black Keep's warriors rush to defend their home only to discover that the clanspeople have not come to pillage at all. Driven from their own land by a daemonic despot who prophesises the end of the world, the raiders come
in search of a new home . . .
Meanwhile the wider continent of Narida is lurching toward war. Black Keep is about to be caught in the crossfire – if only its new mismatched society can survive.
Out Past the Stars (Farian War #3) by K.B. Wagers
When Hail finally confronts the Farian gods, she makes a stunning discovery. There are no gods—only the Hiervet, an alien race with devastating powers who once spread war throughout the galaxy long before humanity's ancestors crawled out of the sludge of Earth's oceans.
But this knowledge carries with it dire news: the Hiervet have returned, eager to take revenge on those of their kind who escaped. And they don't care who gets caught in the middle of the battle—Shen, Farian, or Indranan.
Once again, the fate of the galaxy is on the line and Hail will have to make one final gamble to leverage chaos into peace.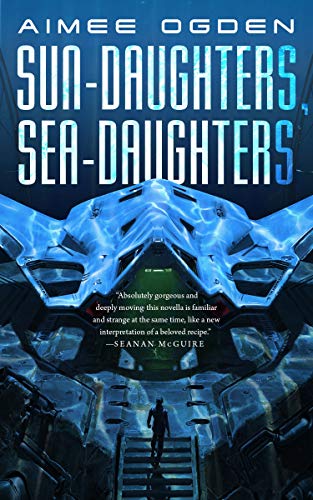 Sun-Daughters, Sea Daughters by Aimee Ogden
Gene-edited human clans have scattered throughout the galaxy, adapting themselves to environments as severe as the desert and the sea. Atuale, the daughter of a Sea-Clan lord, sparked a war by choosing her land-dwelling love and rejecting her place among her people. Now her husband and his clan are dying of a virulent plague, and Atuale's sole hope for finding a cure is to travel off-planet. The one person she can turn to for help is the black-market mercenary known as the World Witch—and Atuale's former lover. Time, politics, bureaucracy, and her own conflicted desires stand between Atuale and the hope for her adopted clan.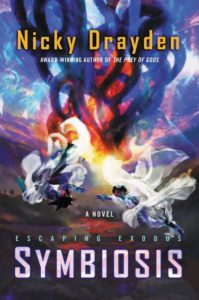 Escaping Exodus: Symbiosis by Nicky Drayden
Nearly a thousand years removed from Earth, the remnants of humanity cling to existence inside giant, space faring creatures known as the Zenzee. Abused and exploited by humans for generations, these majestic animals nearly went extinct, but under the command of its newly minted ruler, Doka Kaleigh, life in the Parados I has flourished. Thanks to careful oversight and sacrifice by all of its crew, they are now on the brink of utopia, and yet Doka's rivals feel threatened by that success.
The Senate allowed Doka to lead their people believing he'd fail spectacularly—a disaster that would cement the legitimacy of their long-standing matriarchy. Despite vocal opposition and blatant attacks on his authority, Doka has continued to handle his position with grace and intelligence; he knows a single misstep means disaster. When a cataclysmic event on another Zenzee world forces Doka and his people to accept thousands of refugees, a culture clash erupts, revealing secrets from the past that could endanger their future. For Doka, the stakes are bigger and more personal than ever before—and could cost him his reign and his heart.
He has fallen for the one woman he is forbidden to love: his wife, Seske.
Doka and Seske must work closely together to sway the other Zenzee worlds to stop their cycles of destruction. But when they stumble upon a discovery that can transform their world, they know they must prepare to fight a battle where there can be no winners, only survivors.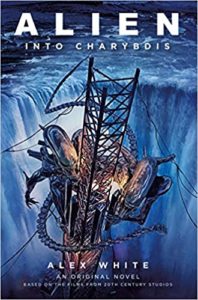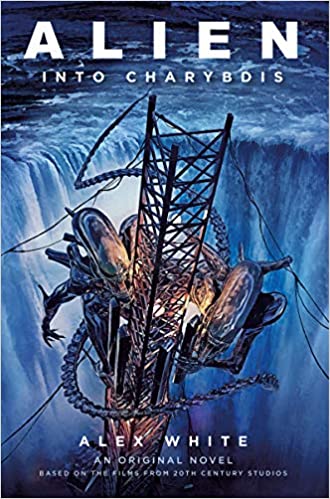 Alien into Charybdis by Alex White
scifi
bi MC
non-binary MC
"Shy" Hunt and the tech team from McAllen Integrations thought they'd have an easy job—set up environmental systems for the brand new Hasanova Data Solutions colony, built on the abandoned ruins of a complex known as "Charybdis." There are just two problems: the colony belongs to the Iranian state, so diplomacy is strained at best, and the complex is located above a series of hidden caves that contain deadly secrets. When a bizarre ship lands on a nearby island, one of the workers is attacked by a taloned creature, and trust evaporates between the Iranians and Americans. The McAllen Integrations crew are imprisoned, accused as spies, but manage to send out a distress signal… to the Colonial Marines.
I already had the chance to read both Winter's Orbit and Fireheart Tiger and highly recommend both, but especially Winter's Orbit. That one is easily a new favorite and I already see myself rereading the second I get a finished copy. A truly amazing debut.
Which of these are you going to read?