When it comes to queer men in fiction, overall one can definitely say we're lacking in good representation all across the genres and age groups, in some more than others. That is not to say that queer men in fiction don't exist or that there isn't good rep at all but depending on where you look, there's definitely issues to talk about, fetishization of m/m relationships just being one of them.
As someone who almost exclusively reads adult science fiction and fantasy, I can only speak about what the current state in that particular area is (and take what I say with a grain of salt, because obviously I'm not a queer men) and would say queer men are the most underrepresented. I see even less queer men in books I read than I do non-binary characters these days, which might be surprising for some and is also downright disappointing when you consider how few non-binary characters there still are.
Now I also got to admit that I rarely ever read (white) cis men, which in turn might have me miss out on not-out trans and queer authors who actually have queer men in their stories. The sad truth is, when it comes to adult SFF there aren't that many people focusing on and highlighting queer books as compared to YA SFF for example. It makes it a lot harder to find (good) queer rep by and about queer men and there aren't a lot of people hyping them up. Seriously, I have seen SO many sapphic/lesbian recommendation lists this Pride Month, and there is nothing wrong with that, but I also haven't seen a single one focusing on queer men.
That's not to say that I haven't come across many great books that included queer male characters but many of them are written by women and non-binary authors. Again, I'm not a queer man…, but the following list of books is what I consider good queer rep, without any fetishization. Many of these don't focus on queer men, but rather have them be just one of many characters across different genders. (in all books listed, there is at least one queer man as a main character)
Queer Men in (adult) SFF
Docile by K.M. Szpara
To be a Docile is to be kept, body and soul, for the uses of the owner of your contract. To be a Docile is to forget, to disappear, to hide inside your body from the horrors of your service. To be a Docile is to sell yourself to pay your parents' debts and buy your children's future.
Elisha Wilder's family has been ruined by debt, handed down to them from previous generations. His mother never recovered from the Dociline she took during her term as a Docile, so when Elisha decides to try and erase the family's debt himself, he swears he will never take the drug that took his mother from him. Too bad his contract has been purchased by Alexander Bishop III, whose ultra-rich family is the brains (and money) behind Dociline and the entire Office of Debt Resolution. When Elisha refuses Dociline, Alex refuses to believe that his family's crowning achievement could have any negative side effects—and is determined to turn Elisha into the perfect Docile without it.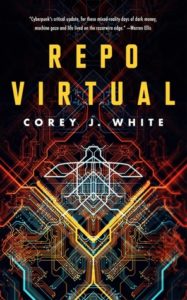 Repo Virtual by Corey J. White
The city of Neo Songdo is a Russian doll of realities — augmented and virtual spaces anchored in the weight of the real. The smart city is designed to be read by machine vision while people see only the augmented facade of the corporate ideal. At night the stars are obscured by an intergalactic virtual war being waged by millions of players, while on the streets below people are forced to beg, steal, and hustle to survive.
Enter Julius Dax, online repoman and real-life thief. He's been hired for a special job: stealing an unknown object from a reclusive tech billionaire. But when he finds out he's stolen the first sentient AI, his payday gets a lot more complicated.
The Expanse Series by James S.A. Corey
Humanity has colonized the solar system—Mars, the Moon, the Asteroid Belt and beyond—but the stars are still out of our reach.
Jim Holden is XO of an ice miner making runs from the rings of Saturn to the mining stations of the Belt. When he and his crew stumble upon a derelict ship, the Scopuli, they find themselves in possession of a secret they never wanted. A secret that someone is willing to kill for—and kill on a scale unfathomable to Jim and his crew. War is brewing in the system unless he can find out who left the ship and why.
Detective Miller is looking for a girl. One girl in a system of billions, but her parents have money and money talks. When the trail leads him to the Scopuli and rebel sympathizer Holden, he realizes that this girl may be the key to everything.
Holden and Miller must thread the needle between the Earth government, the Outer Planet revolutionaries, and secretive corporations—and the odds are against them. But out in the Belt, the rules are different, and one small ship can change the fate of the universe.
Note: the series switches POV characters and doesn't have a queer man as a main/POV in all books across the series!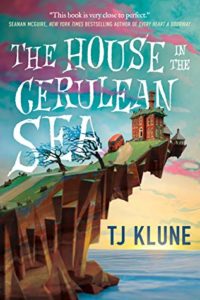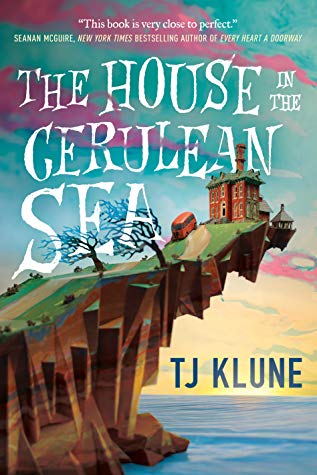 The House in the Cerulean Sea
Linus Baker leads a quiet, solitary life. At forty, he lives in a tiny house with a devious cat and his old records. As a Case Worker at the Department in Charge Of Magical Youth, he spends his days overseeing the well-being of children in government-sanctioned orphanages.
When Linus is unexpectedly summoned by Extremely Upper Management he's given a curious and highly classified assignment: travel to Marsyas Island Orphanage, where six dangerous children reside: a gnome, a sprite, a wyvern, an unidentifiable green blob, a were-Pomeranian, and the Antichrist. Linus must set aside his fears and determine whether or not they're likely to bring about the end of days.
But the children aren't the only secret the island keeps. Their caretaker is the charming and enigmatic Arthur Parnassus, who will do anything to keep his wards safe. As Arthur and Linus grow closer, long-held secrets are exposed, and Linus must make a choice: destroy a home or watch the world burn.
An enchanting story, masterfully told, The House in the Cerulean Sea is about the profound experience of discovering an unlikely family in an unexpected place—and realizing that family is yours.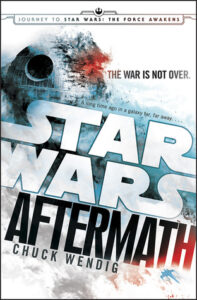 The Star Wars:Aftermath series by Chuck Wendig
As the Empire reels from its critical defeats at the Battle of Endor, the Rebel Alliance—now a fledgling New Republic—presses its advantage by hunting down the enemy's scattered forces before they can regroup and retaliate. But above the remote planet Akiva, an ominous show of the enemy's strength is unfolding. Out on a lone reconnaissance mission, pilot Wedge Antilles watches Imperial Star Destroyers gather like birds of prey circling for a kill, but he's taken captive before he can report back to the New Republic leaders.
Meanwhile, on the planet's surface, former rebel fighter Norra Wexley has returned to her native world—war weary, ready to reunite with her estranged son, and eager to build a new life in some distant place. But when Norra intercepts Wedge Antilles's urgent distress call, she realizes her time as a freedom fighter is not yet over. What she doesn't know is just how close the enemy is—or how decisive and dangerous her new mission will be.
Determined to preserve the Empire's power, the surviving Imperial elite are converging on Akiva for a top-secret emergency summit—to consolidate their forces and rally for a counterstrike. But they haven't reckoned on Norra and her newfound allies—her technical-genius son, a Zabrak bounty hunter, and a reprobate Imperial defector—who are prepared to do whatever they must to end the Empire's oppressive reign once and for all.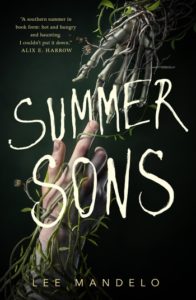 Summer Sons by Lee Mandelo
Andrew and Eddie did everything together, best friends bonded more deeply than brothers, until Eddie left Andrew behind to start his graduate program at Vanderbilt. Six month later, only days before Andrew was to join him in Nashville, Eddie dies of an apparent suicide. He leaves Andrew a horrible inheritance: a roommate he doesn't know, friends he never asked for, and a gruesome phantom with bleeding wrists that mutters of revenge.
As Andrew searches for the truth of Eddie's death, he uncovers the lies and secrets left behind by the person he trusted most, discovering a family history soaked in blood and death. Whirling between the backstabbing academic world where Eddie spent his days and the circle of hot boys, fast cars, and hard drugs that ruled Eddie's nights, the walls Andrew has built against the world begin to crumble, letting in the phantom that hungers for him.
Note: not released until September 2021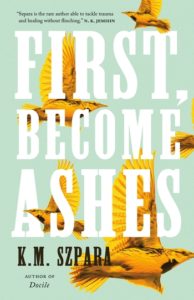 First, Become Ashes by K.M. Szpara
Lark spent the first twenty-four years, nine months, and three days of his life training for a righteous quest: to rid the world of monsters. Alongside his partner Kane, he wore the cage and endured the scourge in order to develop his innate magic. He never thought that when Kane left, he'd next see him in the company of FBI agents and a SWAT team. He never dreamed that the leader of the Fellowship of the Anointed would be brought up on charges of abuse and assault.
He never expected the government would tell him that the monsters aren't real–that there is no magic, and all the pain was for nothing.
Lark isn't ready to give up. He is determined to fulfill his quest, to defeat the monsters he was promised. Along the way he will grapple with the past, confront love, and discover his long-buried truth.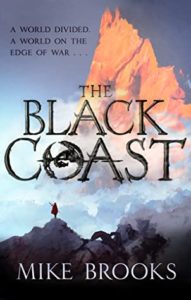 The God-King Chronicles series by Mike Brooks
When the citizens of Black Keep see ships on the horizon, terror takes them, for they know who is coming: for generations, Black Keep has been raided by the fearsome clanspeople of Iwernia. Saddling their war dragons, the Naridans rush to defend their home only to discover that the clanspeople have not come to pillage at all. Driven from their own homeland by the rise of a daemonic despot who prophesies the end of the world, they have come in search of a new home. Meanwhile the wider continent of Narida is lurching toward war. Black Keep is about to be caught in the cross-fire of the coming war for the world – if only its new mismatched society can survive.
We Could be Heroes by Mike Chen
Jamie woke up in an empty apartment with no memory and only a few clues to his identity, but with the ability to read and erase other people's memories—a power he uses to hold up banks to buy coffee, cat food and books.
Zoe is also searching for her past, and using her abilities of speed and strength…to deliver fast food. And she'll occasionally put on a cool suit and beat up bad guys, if she feels like it.
When the archrivals meet in a memory-loss support group, they realize the only way to reveal their hidden pasts might be through each other. As they uncover an ongoing threat, suddenly much more is at stake than their fragile friendship. With countless people at risk, Zoe and Jamie will have to recognize that sometimes being a hero starts with trusting someone else—and yourself.
The Velocity Revolution by Marshall Ryan Maresca
Ziaparr: a city being rebuilt after years of mechanized and magical warfare, the capital of a ravaged nation on the verge of renewal and self-rule. But unrest foments as undercaste cycle gangs raid supply trucks, agitate the populace and vandalize the city. A revolution is brewing in the slums and shantytowns against the occupying government, led by a voice on the radio, connected through forbidden magic.
Wenthi Tungét, a talented cycle rider and a loyal officer in the city patrol, is assigned to infiltrate the cycle gangs. For his mission against the insurgents, Wenthi must use their magic, connecting his mind to Nália, a recently captured rebel, using her knowledge to find his way into the heart of the rebellion.
Wenthi's skill on a cycle makes him valuable to the resistance cell he joins, but he discovers that the magic enhances with speed. Every ride intensifies his connection, drawing him closer to the gang he must betray, and strengthens Nália's presence as she haunts his mind.
Wenthi is torn between justice and duty, and the wrong choice will light a spark in a city on the verge of combustion.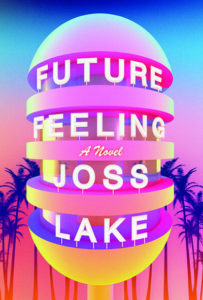 Future Feeling by Joss Lake
The year is 20__, and Penfield R. Henderson is in a rut. When he's not walking dogs for cash or responding to booty calls from his B-list celebrity hookup, he's holed up in his dingy Bushwick apartment obsessing over holograms of Aiden Chase, a fellow trans man and influencer documenting his much smoother transition into picture-perfect masculinity on the Gram. After an IRL encounter with Aiden leaves Pen feeling especially resentful, Pen enlists his roommates, the Witch and the Stoner-Hacker, to put their respective talents to use in hexing Aiden. Together, they gain access to Aiden's social media account and post a picture of Pen's aloe plant, Alice, tied to a curse:
Whosoever beholds the aloe will be pushed into the Shadowlands.
When the hex accidentally bypasses Aiden, sending another young trans man named Blithe to the Shadowlands (the dreaded emotional landscape through which every trans person must journey to achieve true self-actualization), the Rhiz (the quasi-benevolent big brother agency overseeing all trans matters) orders Pen and Aiden to team up and retrieve him. The two trace Blithe to a dilapidated motel in California and bring him back to New York, where they try to coax Blithe to stop speaking only in code and awkwardly try to pass on what little trans wisdom they possess. As the trio makes its way in a world that includes pitless avocados and subway cars that change color based on occupants' collective moods but still casts judgment on anyone not perfectly straight, Pen starts to learn that sometimes a family isn't just the people who birthed you.
From the Dark We Came by J. Emery
Belar has made lying into an art form. His neighbors know him as a mild mannered music teacher, but to his fellow monster hunters he's a senior agent with one of the best track records in the organization. Werewolves, malignant spirits, and other oddities—you name it, he can track it. And kill it if necessary.
But when a vampire shows up in Belar's parlor, his two worlds crash into each other. The vampire is named Cassian, and if he had any sense of decency he would be dead since Belar has already tried to kill him. Twice. Luckily, Cassian isn't interested in holding a grudge. He wants to hire the hunter. Someone in vampire society wants Cassian dead and they've been using Belar to do their dirty work. Finding the culprit will save them both.
Their search for answers takes them through a nighttime world of ancient vampires, demon tailors, and monsters of pure shadow. But Belar hasn't been the only one lying, and enemies and allies are harder to tell apart in the dark.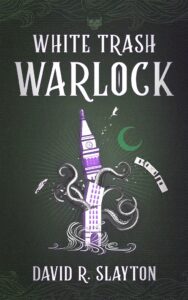 White Trash Warlock by
Adam Binder hasn't spoken to his brother in years, not since Bobby had him committed to a psych ward for hearing voices. When a murderous spirit possesses Bobby's wife and disrupts the perfect life he's built away from Oklahoma, he's forced to ask for his little brother's help. Adam is happy to escape the trailer park and get the chance to say I told you so, but he arrives in Denver to find the local magicians dead.
It isn't long before Adam is the spirit's next target. To survive the confrontation, he'll have to risk bargaining with powers he'd rather avoid, including his first love, the elf who broke his heart.
The Binder brothers don't realize that they're unwitting pawns in a game played by immortals. Death herself wants the spirit's head, and she's willing to destroy their family to reap it.
A Taste of Honey by Kai Ashante Wilson
Long after the Towers left the world but before the dragons came to Daluça, the emperor brought his delegation of gods and diplomats to Olorum. As the royalty negotiates over trade routes and public services, the divinity seeks arcane assistance among the local gods.
Aqib bgm Sadiqi, fourth-cousin to the royal family and son of the Master of Beasts, has more mortal and pressing concerns. His heart has been captured for the first time by a handsome Daluçan soldier named Lucrio. In defiance of Saintly Canon, gossiping servants, and the furious disapproval of his father and brother, Aqib finds himself swept up in a whirlwind romance. But neither Aqib nor Lucrio know whether their love can survive all the hardships the world has to throw at them.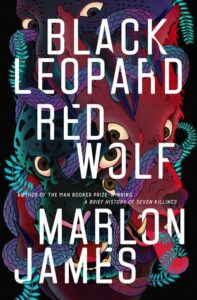 Black Leopard, Red Wolf by Marlon James
Tracker is known far and wide for his skills as a hunter: "He has a nose," people say. Engaged to track down a mysterious boy who disappeared three years earlier, Tracker breaks his own rule of always working alone when he finds himself part of a group that comes together to search for the boy. The band is a hodgepodge, full of unusual characters with secrets of their own, including a shape-shifting man-animal known as Leopard.
Drawing from African history and mythology and his own rich imagination, Marlon James has written an adventure that's also an ambitious, involving read. Defying categorization and full of unforgettable characters, Black Leopard, Red Wolf explores the fundamentals of truths, the limits of power, the excesses of ambition, and our need to understand them all.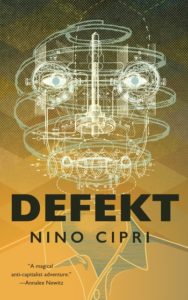 Defekt by Nino Cipri
Derek is LitenVärld's most loyal employee. He lives and breathes the job, from the moment he wakes up in a converted shipping container at the edge of the parking lot to the second he clocks out of work 18 hours later. But after taking his first ever sick day, his manager calls that loyalty into question. An excellent employee like Derek, an employee made to work at LitenVärld, shouldn't need time off.
To test his commitment to the job, Derek is assigned to a special inventory shift, hunting through the store to find defective products. Toy chests with pincers and eye stalks, ambulatory sleeper sofas, killer mutant toilets, that kind of thing. Helping him is the inventory team — four strangers who look and sound almost exactly like him. Are five Dereks better than one?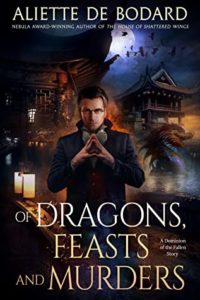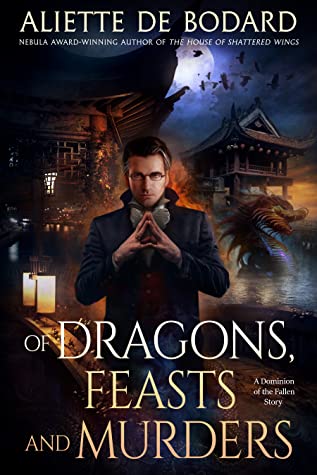 Of Dragons, Feasts and Murders / Dominion of the Fallen by Aliette de Bodard
Lunar New Year should be a time for familial reunions, ancestor worship, and consumption of an unhealthy amount of candied fruit.
But when dragon prince Thuan brings home his brooding and ruthless husband Asmodeus for the New Year, they find not interminable family gatherings, but a corpse outside their quarters. Asmodeus is thrilled by the murder investigation; Thuan, who gets dragged into the political plotting he'd sworn off when he left, is less enthusiastic.
It'll take all of Asmodeus's skill with knives, and all of Thuan's diplomacy, to navigate this one—as well as the troubled waters of their own relationship….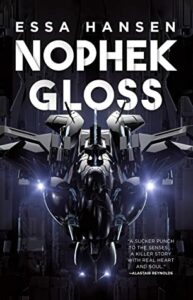 Nophek Gloss by Essa Hansen
Caiden's planet is destroyed. His family gone. And, his only hope for survival is a crew of misfit aliens and a mysterious ship that seems to have a soul and a universe of its own. Together they will show him that the universe is much bigger, much more advanced, and much more mysterious than Caiden had ever imagined. But the universe hides dangers as well, and soon Caiden has his own plans. He vows to do anything it takes to get revenge on the slavers who murdered his people and took away his home. To destroy their regime, he must infiltrate and dismantle them from the inside, or die trying.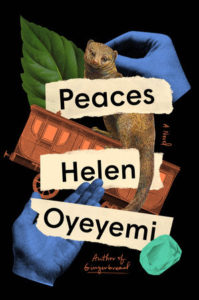 Peaces by Helen Oyeyemi
When Otto and Xavier Shin declare their love, an aunt gifts them a trip on a sleeper train to mark their new commitment–and to get them out of her house. Setting off with their pet mongoose, Otto and Xavier arrive at their sleepy local train station, but quickly deduce that The Lucky Day is no ordinary locomotive. Their trip on this former tea-smuggling train has been curated beyond their wildest imaginations, complete with mysterious and welcoming touches, like ingredients for their favorite breakfast. They seem to be the only people onboard, until Otto discovers a secretive woman who issues a surprising message. As further clues and questions pile up, and the trip upends everything they thought they knew, Otto and Xavier begin to see connections to their own pasts, connections that now bind them together.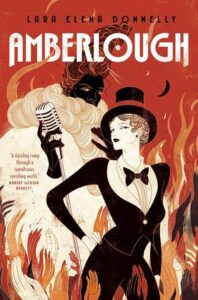 Amberlough by Lara Elena Donnelly
Welcome to Amberlough City, the illustrious but corrupt cosmopolitan beacon of Gedda. The radical One State Party—nicknamed the Ospies—is gaining popular support to unite Gedda's four municipal governments under an ironclad, socially conservative vision.
Not everyone agrees with the Ospies' philosophy, including master spy Cyril DePaul and his lover Aristide Makricosta, smuggler and emcee at the popular Bumble Bee Cabaret. When Cyril's cover is blown on a mission, however, he must become a turncoat in exchange for his life. Returning to Amberlough under the Ospies' watchful eye, Cyril enters a complex game of deception. One of his concerns is safeguarding Aristide, who refuses to let anyone—the crooked city police or the homophobic Ospies—dictate his life.
Enter streetwise Cordelia Lehane, top dancer at the Bee and Aristide's runner, who could be the key to Cyril's plans—if she can be trusted. As the twinkling lights of nightclub marquees yield to the rising flames of a fascist revolution, these three will struggle to survive using whatever means—and people—necessary. Including each other.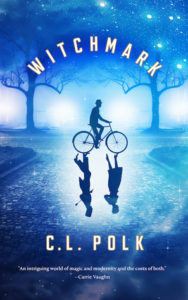 Witchmark by C.L. Polk
Magic marked Miles Singer for suffering the day he was born, doomed either to be enslaved to his family's interest or to be committed to a witches' asylum. He went to war to escape his destiny and came home a different man, but he couldn't leave his past behind. The war between Aeland and Laneer leaves men changed, strangers to their friends and family, but even after faking his own death and reinventing himself as a doctor at a cash-strapped veterans' hospital, Miles can't hide what he truly is.
When a fatally poisoned patient exposes Miles' healing gift and his witchmark, he must put his anonymity and freedom at risk to investigate his patient's murder. To find the truth he'll need to rely on the family he despises, and on the kindness of the most gorgeous man he's ever seen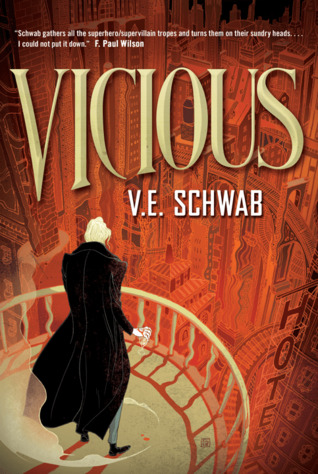 Vicious / Villains series by V.E. Schwab
Victor and Eli started out as college roommates—brilliant, arrogant, lonely boys who recognized the same sharpness and ambition in each other. In their senior year, a shared research interest in adrenaline, near-death experiences, and seemingly supernatural events reveals an intriguing possibility: that under the right conditions, someone could develop extraordinary abilities. But when their thesis moves from the academic to the experimental, things go horribly wrong.
Ten years later, Victor breaks out of prison, determined to catch up to his old friend (now foe), aided by a young girl whose reserved nature obscures a stunning ability. Meanwhile, Eli is on a mission to eradicate every other super-powered person that he can find—aside from his sidekick, an enigmatic woman with an unbreakable will. Armed with terrible power on both sides, driven by the memory of betrayal and loss, the archnemeses have set a course for revenge—but who will be left alive at the end?
The Nova Vita Protocol series by Kristyn Merbeth
Scorpia Kaiser has always stood in Corvus's shadow until the day her older brother abandons their family to participate in a profitless war. However, becoming the heir to her mother's smuggling operation is not an easy transition for the always rebellious, usually reckless, and occasionally drunk pilot of the Fortuna, an aging cargo ship and the only home Scorpia has ever known.
But when a deal turns deadly and Corvus returns from the war, Scorpia's plans to take over the family business are interrupted, and the Kaiser siblings are forced to make a choice: take responsibility for their family's involvement in a devastating massacre or lay low and hope it blows over.
Too bad Scorpia was never any good at staying out of a fight.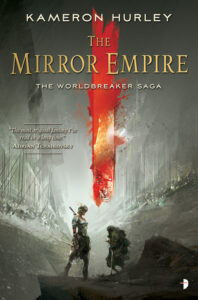 The Worldbreaker series by Kameron Hurley
On the eve of a recurring catastrophic event known to extinguish nations and reshape continents, a troubled orphan evades death and slavery to uncover her own bloody past… while a world goes to war with itself.
In the frozen kingdom of Saiduan, invaders from another realm are decimating whole cities, leaving behind nothing but ash and ruin.
As the dark star of the cataclysm rises, an illegitimate ruler is tasked with holding together a country fractured by civil war, a precocious young fighter is asked to betray his family and a half-Dhai general must choose between the eradication of her father's people or loyalty to her alien Empress.
Through tense alliances and devastating betrayal, the Dhai and their allies attempt to hold against a seemingly unstoppable force as enemy nations prepare for a coming together of worlds as old as the universe itself.
In the end, one world will rise – and many will perish.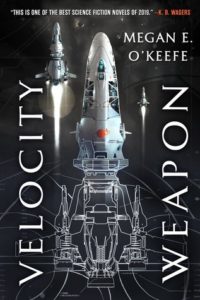 The Protectorate series by Megan E. O'Keefe
Sanda and Biran Greeve were siblings destined for greatness. A high-flying sergeant, Sanda has the skills to take down any enemy combatant. Biran is a savvy politician who aims to use his new political position to prevent conflict from escalating to total destruction.
However, on a routine maneuver, Sanda loses consciousness when her gunship is blown out of the sky. Instead of finding herself in friendly hands, she awakens 230 years later on a deserted enemy warship controlled by an AI who calls himself Bero. The war is lost. The star system is dead. Ada Prime and its rival Icarion have wiped each other from the universe.
Now, separated by time and space, Sanda and Biran must fight to put things right.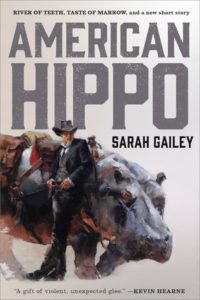 American Hippo by Sarah Gailey
Years ago, in an America that never was, the United States government introduced herds of hippos to the marshlands of Louisiana to be bred and slaughtered as an alternative meat source. This plan failed to take into account some key facts about hippos: they are savage, they are fast, and their jaws can snap a man in two.
By the 1890s, the vast bayou that was once America's greatest waterway belongs to feral hippos, and Winslow Houndstooth has been contracted to take it back. To do so, he will gather a crew of the damnedest cons, outlaws, and assassins to ever ride a hippo. American Hippo is the story of their fortunes, their failures, and his revenge.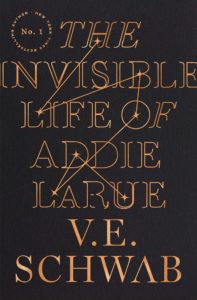 The Invisible Life of Addie LaRue
France, 1714: in a moment of desperation, a young woman makes a Faustian bargain to live forever and is cursed to be forgotten by everyone she meets.
Thus begins the extraordinary life of Addie LaRue, and a dazzling adventure that will play out across centuries and continents, across history and art, as a young woman learns how far she will go to leave her mark on the world.
But everything changes when, after nearly 300 years, Addie stumbles across a young man in a hidden bookstore and he remembers her name.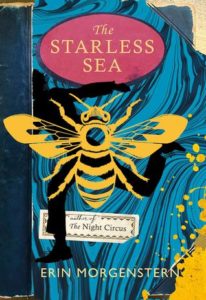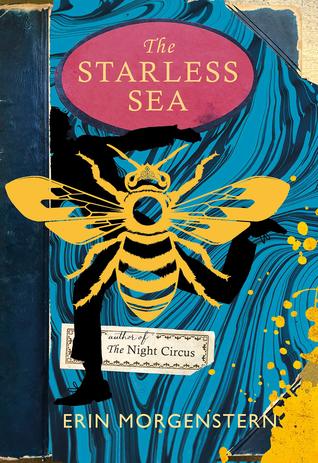 The Starless Sea by Erin Morgenstern
Zachary Ezra Rawlins is a graduate student in Vermont when he discovers a mysterious book hidden in the stacks. As he turns the pages, entranced by tales of lovelorn prisoners, key collectors, and nameless acolytes, he reads something strange: a story from his own childhood. Bewildered by this inexplicable book and desperate to make sense of how his own life came to be recorded, Zachary uncovers a series of clues—a bee, a key, and a sword—that lead him to a masquerade party in New York, to a secret club, and through a doorway to an ancient library hidden far below the surface of the earth.
What Zachary finds in this curious place is more than just a buried home for books and their guardians—it is a place of lost cities and seas, lovers who pass notes under doors and across time, and of stories whispered by the dead. Zachary learns of those who have sacrificed much to protect this realm, relinquishing their sight and their tongues to preserve this archive, and also of those who are intent on its destruction.
Together with Mirabel, a fierce, pink-haired protector of the place, and Dorian, a handsome, barefoot man with shifting alliances, Zachary travels the twisting tunnels, darkened stairwells, crowded ballrooms, and sweetly soaked shores of this magical world, discovering his purpose—in both the mysterious book and in his own life.
(Adult) SFF is already going in the right direction by giving us more representations across all genders and I hope it will keep improving. We certainly aren't lacking in queer books but I'm sure there are also people not quite finding themself in books often enough yet.
What is one of you favorite SFF books featuring queer men?