This year's Pride Month is slowly coming to an end and what better way to wrap it all up than featuring some of my favorite queer books!?
2021 is another year full of amazing queer (adult) science fiction and fantasy titles (you can check out my full list of queer SFF releases of 2021) and I've found new favorites and new-to-me authors I can't wait to read more from. While I was also in one of the biggest reading slumps this year, and didn't read nearly as many as I would have wanted to, I still read a lot of amazing queer books. Books about serial killers, of a world overrun by AI gods, about humans meeting robots, about the most fashionable detective, with kickass characters fighting corporate greed and so much more. All of them featuring queer characters across the whole spectrum, never stories about being queer, just queer people having adventures.
My top ten of the first half of 2021
While I also read some backlist titles (and already some releases of the second half of the year), the following list focuses exclusively on books released from January to June 2021.
Catalyst Gate by Megan E. O'Keefe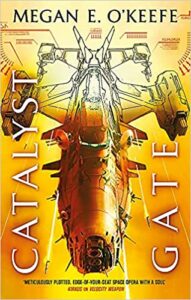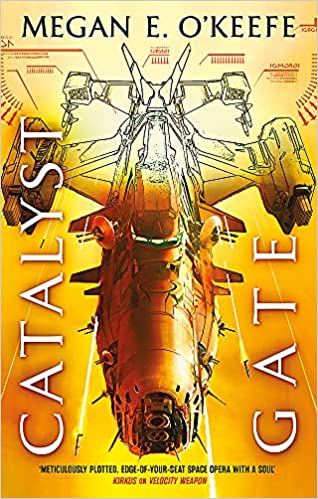 The Protectorate #3

The code has been cracked. The secrets of the Casimir gates have been revealed. But humanity still isn't safe. The alien intelligence known as Rainier and her clones are still out there, hell-bent on its destruction. And only Sanda can stop them.

With the universe's most powerful ship under her command and some of the most skilled hackers, fighters and spies on her team, it will still take everything she has to find the key to taking down an immortal enemy with seemingly limitless bodies, resources and power.
Being the conclusion to one hell of a series, it was no surprise that I loved The Catalyst Gate by Megan E. O'Keefe. Not only is the last book just as good as the previous ones, filled with the most amazing (queer) characters, mind-blowing plot-twists and a fast-paced, addictive plot, it also has the added bonus of bringing everything you've learned together, wrapping it all up. All secrets are finally revealed, making me want to go back and reread already.
Firebreak by Nicole Kornher-Stace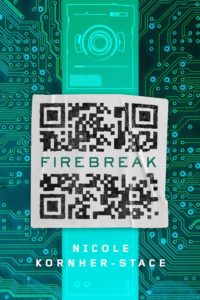 Like everyone else she knows, Mallory is an orphan of the corporate war. As a child, she lost her parents, her home, and her entire building in an airstrike. As an adult, she lives in a cramped hotel room with eight other people, all of them working multiple jobs to try to afford water and make ends meet. And the job she's best at is streaming a popular VR war game. The best part of the game isn't killing enemy combatants, though—it's catching in-game glimpses of SpecOps operatives, celebrity supersoldiers grown and owned by Stellaxis, the corporation that runs the America she lives in.

Until a chance encounter with a SpecOps operative in the game leads Mal to a horrifying discovery: the real-life operatives weren't created by Stellaxis. They were kids, just like her, who lost everything in the war, and were stolen and augmented and tortured into becoming supersoldiers. The world worships them, but the world believes a lie.

The company controls every part of their lives, and defying them puts everything at risk—her water ration, her livelihood, her connectivity, her friends, her life—but she can't just sit on the knowledge. She has to do something—even if doing something will bring the wrath of the most powerful company in the world down upon her.
There is amazing queer representation and then there is "OMG it's ME". Firebreak by Nicole Kornher-Stace is very much the latter for me. This book certainly wasn't the first time I got to see aro/ace rep in a book, but there was one aspect to it that I hadn't seen before: the friendship/platonic crush. Oh wow, did I feel seen. While I might very well have loved the book just for that, there is a lot more to it too: precious characters, awesome plot, and the scary bit regarding how likely this possible future really is for us. (if you see this compared to RPO, let me just say: this is the better, non-white-cis-dude RPO of your dreams!)
Defekt by Nino Cipri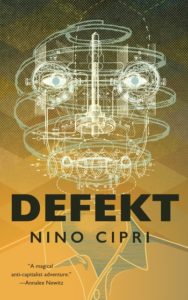 Derek is LitenVärld's most loyal employee. He lives and breathes the job, from the moment he wakes up in a converted shipping container at the edge of the parking lot to the second he clocks out of work 18 hours later. But after taking his first ever sick day, his manager calls that loyalty into question. An excellent employee like Derek, an employee made to work at LitenVärld, shouldn't need time off.

To test his commitment to the job, Derek is assigned to a special inventory shift, hunting through the store to find defective products. Toy chests with pincers and eye stalks, ambulatory sleeper sofas, killer mutant toilets, that kind of thing. Helping him is the inventory team — four strangers who look and sound almost exactly like him. Are five Dereks better than one?
Nino Cipri's Finna was a big favorite of mine last year and I hoped/expected Defekt would keep up with that. And it certainly did, just not the way I thought it would. Besides the obvious things, deep down these novellas have one thing in common and that is self-discovery/reflection. Defekt just goes way deeper than Finna did and I LOVED that. The idea of getting to meet other versions of yourself (both in character and gender) and having the opportunity to really see who you can be, that nothing is set in stone, that there are so many versions of yourself and you only need to find the one that you feel comfortable being….
A Psalm for the Wild-Built by Becky Chambers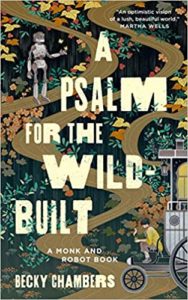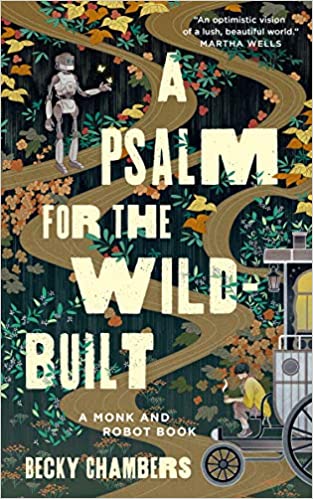 It's been centuries since the robots of Earth gained self-awareness and laid down their tools.
Centuries since they wandered, en masse, into the wilderness, never to be seen again.
Centuries since they faded into myth and urban legend.

One day, the life of a tea monk is upended by the arrival of a robot, there to honor the old promise of checking in. The robot cannot go back until the question of "what do people need?" is answered.

But the answer to that question depends on who you ask, and how.
They're going to need to ask it a lot.
I was not surprised about how much I loved the start of Becky Chambers' new novella series, A Psalm of the Wild-Built. It's Becky Chambers we're talking about after all. Her stories are always very character-driven and always manage to hit close to home for me, this novella being no exception. The story explorers the idea of finding a purpose in life, why we so desperately want one and what "having a purpose" even means in the first place. Having discussions about that between a human and a robot only makes it that much sweeter.
A Master of Djinn by P. Djèlí Clark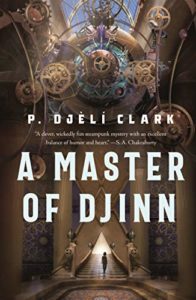 Cairo, 1912: Though Fatma el-Sha'arawi is the youngest woman working for the Ministry of Alchemy, Enchantments and Supernatural Entities, she's certainly not a rookie, especially after preventing the destruction of the universe last summer.

So when someone murders a secret brotherhood dedicated to one of the most famous men in history, al-Jahiz, Agent Fatma is called onto the case. Al-Jahiz transformed the world 50 years ago when he opened up the veil between the magical and mundane realms, before vanishing into the unknown. This murderer claims to be al-Jahiz, returned to condemn the modern age for its social oppressions. His dangerous magical abilities instigate unrest in the streets of Cairo that threaten to spill over onto the global stage.

Alongside her Ministry colleagues and her clever girlfriend Siti, Agent Fatma must unravel the mystery behind this imposter to restore peace to the city – or face the possibility he could be exactly who he seems….
If you haven't met Fatma yet, you're missing out! I was a big fan of the short story A Dead Djinn in Cairo in couldn't quite believe it when it was announced not only would we get more Fatma, but a full length novel this time. And what a novel that was! The characters, the setting, the plot… I loved everything about this but I'm sure I would love every story if it just has Fatma in it, no matter what. Her and her fashionable suits, solving crimes is all I really need, and more of it I do need.
The Helm of Midnight by Marina Lostetter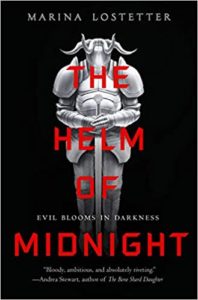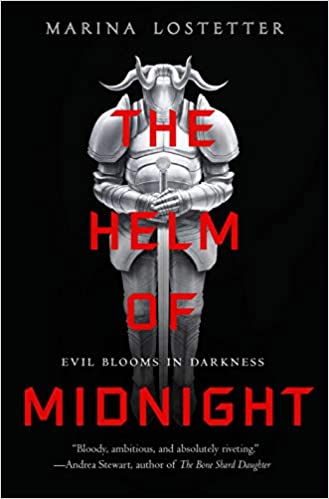 In a daring and deadly heist, thieves have made away with an artifact of terrible power–the death mask of Louis Charbon. Made by a master craftsman, it is imbued with the spirit of a monster from history, a serial murderer who terrorized the city with a series of gruesome murders.

Now Charbon is loose once more, killing from beyond the grave. But these murders are different from before, not simply random but the work of a deliberate mind probing for answers to a sinister question.

It is up to Krona Hirvath and her fellow Regulators to enter the mind of madness to stop this insatiable killer while facing the terrible truths left in his wake.
I was a bit nervous about going into my first Marina Lostetter book and kept pulling it off because every single one of her books sounds just right up my alley and the new-fav-author potential was so high that I was scared to be disappointed LOL Only just recently I finally read The Helm of Midnight though and OMG,  I was right. It was the perfect book for me and just so very good. I can't wait to read more books in this series that has the most amazing world building/magic system, and is queer AF (loved the many uses of neopronouns).
Persephone Station by Stina Leicht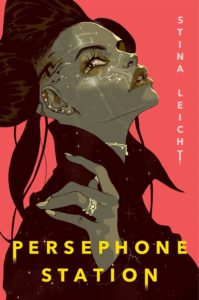 Persephone Station, a seemingly backwater planet that has largely been ignored by the United Republic of Worlds, becomes the focus for the Serrao-Orlov Corporation as the planet has a few secrets the corporation tenaciously wants to exploit.

Rosie—owner of Monk's Bar, in the corporate town of West Brynner—caters to wannabe criminals and rich Earther tourists, of a sort, at the front bar. However, exactly two types of people drink at Monk's back bar: members of a rather exclusive criminal class and those who seek to employ them.

Angel—ex-marine and head of a semi-organized band of beneficent criminals, wayward assassins, and washed up mercenaries with a penchant for doing the honorable thing—is asked to perform a job for Rosie. What this job reveals will affect Persephone and put Angel and her squad up against an army. Despite the odds, they are rearing for a fight with the Serrao-Orlov Corporation. For Angel, she knows that once honor is lost, there is no regaining it. That doesn't mean she can't damned well try.
Give me a queer found family of anti-heroes in space and you already got me. Kickass superqueeroes, the whole bunch of them! And the best part? Persephone Station includes both an alien and AI POV! Heck yeah, this is a me book! Full of action, plotting, secrets and epic battles this one is one hell of a read.
Winter's Orbit by Everina Maxwell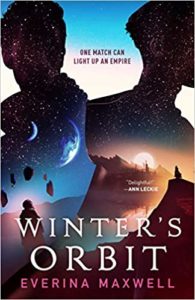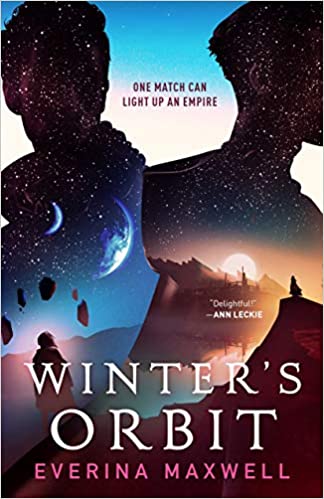 While the Iskat Empire has long dominated the system through treaties and political alliances, several planets, including Thea, have begun to chafe under Iskat's rule. When tragedy befalls Imperial Prince Taam, his Thean widower, Jainan, is rushed into an arranged marriage with Taam's cousin, the disreputable Kiem, in a bid to keep the rising hostilities between the two worlds under control.

But when it comes to light that Prince Taam's death may not have been an accident, and that Jainan himself may be a suspect, the unlikely pair must overcome their misgivings and learn to trust one another as they navigate the perils of the Iskat court, try to solve a murder, and prevent an interplanetary war… all while dealing with their growing feelings for each other.
I'm not really a romance reader, actually prefer my books without much/any romance but this book was just calling to me anyway and while starting it and very much questioning "OMG what am I doing?", by the end I was glad I picked it up. Winter's Orbit being about an arranged marriage, the relationship between to two characters is still very much the focus but there is also so much else going on which is really what had me stuck to the pages. Their relationship dynamics were to die for too though.
Local Star by Aimee Ogden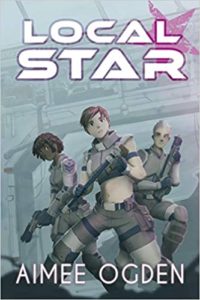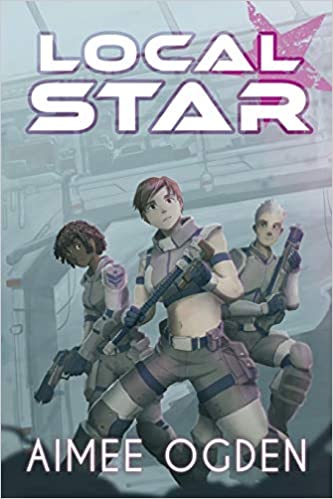 Local Star is a polyamorous space opera with a fast-paced, action-packed adventure that's sure to punch you in the feels. It follows guttergirl Triz as she saves her hub from invaders from the Cyberbionautic Alliance, all the while negotiating her rekindled romance with Kalo, her ex who's returned from battle and won't stop hanging around the wrenchworks.
This novella got everything I need from a queer space opera: queernorm world (including poly relationships), everyone is queer basically, use of neopronouns (and by multiple characters too),  and an awesome, very exciting plot where the "exes being forced to work together" is just half of what makes this a fun read. On top of that is also has some excellent character growth.
Son of the Storm by Suyi Davies Okungbowa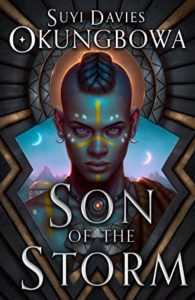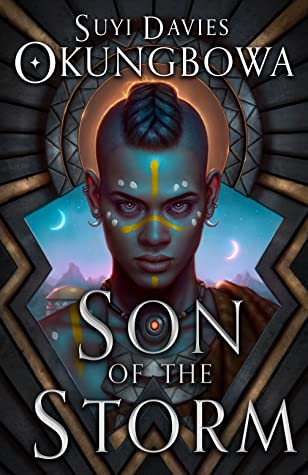 In the ancient city of Bassa, Danso is a clever scholar on the cusp of achieving greatness—only he doesn't want it. Instead, he prefers to chase forbidden stories about what lies outside the city walls. The Bassai elite claim there is nothing of interest. The city's immigrants are sworn to secrecy.

But when Danso stumbles across a warrior wielding magic that shouldn't exist, he's put on a collision course with Bassa's darkest secrets. Drawn into the city's hidden history, he sets out on a journey beyond its borders. And the chaos left in the wake of his discovery threatens to destroy the empire.
Son of the Storm by Suyi Davies Okungbowa was a bit of on interesting experience. I had some high expectations and was really excited, but didn't even know it featured any queer (main) characters. Then I started reading it and while being very excited to discover those queer characters, was also struggling a bit, thinking this won't become a new favorite. That quickly changed after a certain point though and all of a sudden I was in deep and couldn't stop reading. The magic system of the new series is amazing and I can't wait to find out more about it. What I loved the most is how this book doesn't have any characters that are clearly good or bad, it's not just black and white and it's kind of a mind-fuck to root for different characters who are working against each other/have opposing goals.
2021 seems to be THE year for queer (adult) fantasy, especially by BIPOC authors but you don't see me mention many of those books on this list. I have read and enjoyed quite a lot of those too but science fiction is where my heart is at, and fantasy rarely makes it to the very top of my favorites list. Of all the queer 2021 releases I have read there wasn't a single disappointment though. Please keep going like this, publishing!
What has been one of your favorite queer releases so far this year?