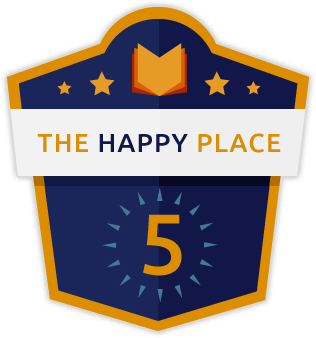 THE HAPPY PLACE 5 IS A MONTHLY FEATURE, WHERE WE LIST OUR TOP FIVE BOOKS FOR A CERTAIN TOPIC OR THEME, WITH ITS NAME ORIGINATING FROM A DISCORD GROUP CALLED THE HAPPY PLACE. YOU CAN FIND LINKS TO ALL PARTICIPATING BLOGS AND THEIR OWN TOP 5 LIST FOR THE CURRENT TOPIC DOWN BELOW.
I could probably start every single one of the Happy Place 5 posts with "this was HARD!!" but really, choosing just five books out of all the many (queer) releases 2022 has in store for us (I made a list *cough cough*) is torture. I feel like a mom who has to pick a favorite child.
There are some books that easily would have made the top of the list but they don't have titles and/or release dates yet (NeoG #3, Threads of Power, Loosing Gravity) so while I sneakily just mentioned them anyway, I chose to exclude them from the list (even though it wasn't easy, believe me)
My 5 Most Anticipated Books of 2022
Nona the Ninth (Locked Tomb #3) by Tamsyn Muir
Her city is under siege.

The zombies are coming back.

And all Nona wants is a birthday party.

In many ways, Nona is like other people. She lives with her family, has a job at her local school, and loves walks on the beach and meeting new dogs. But Nona's not like other people. Six months ago she woke up in a stranger's body, and she's afraid she might have to give it back.

The whole city is falling to pieces. A monstrous blue sphere hangs on the horizon, ready to tear the planet apart. Blood of Eden forces have surrounded the last Cohort facility and wait for the Emperor Undying to come calling. Their leaders want Nona to be the weapon that will save them from the Nine Houses. Nona would prefer to live an ordinary life with the people she loves, with Pyrrha and Camilla and Palamedes, but she also knows that nothing lasts forever.

And each night, Nona dreams of a woman with a skull-painted face…
I mean… duh.
This series is one of my absolute favorite series. It gives me so much joy and I LOVE its mindfuckery. (Harrow might have been the first ever audiobook reread I struggled with because…. you know if you know XD)
Nona the Ninths comes out Sept 13 from TorDotCome
A Prayer for the Crown-Shy (Monk & Robot #2) by Becky Chambers
After touring the rural areas of Panga, Sibling Dex (a Tea Monk of some renown) and Mosscap (a robot sent on a quest to determine what humanity really needs) turn their attention to the villages and cities of the little moon they call home.

They hope to find the answers they seek, while making new friends, learning new concepts, and experiencing the entropic nature of the universe.
I'm always more than happy to get my hands on more Becky Chamber stories but especially right now there is always a need for feel-good stories and Chambers does exactly that. They always make me feel seen and give me hope.
A Prayer for the Crown-Shy comes out Jul 12 from TorDotCom
The Last Hero (The First Sister #3) by Linden Lewis
no description out yet :O
While The First Sister was "only" an almost favorite, its sequel The Second Rebel just blew me away and I can't even tell you how excited I am to see how it all comes to an end. I'm deeply afraid of what's going to happen next to these characters though as these books are quite heavy both in feels as well in the topics it deals with (check CWs!!)
The Last Hero comes out Aug 16 from Skybound Books
Fault Tolerance (Captain Eva Innocente #3) by Valerie Valdes
Nothing wrecks Captain Eva Innocente's vacation plans quite like an anonymous threat to vaporize billions of people. Hundreds of monoliths have suddenly materialized in space, broadcasting the same looped message: surrender or be exterminated. Is the universe being epically spammed?

Surrender to whom? Exterminated when? And how is Eva, commander of a beat-up cargo ship, supposed to prevent it? As panic spreads, a mystery message sends Eva to find answers, in a system that hasn't been explored in all of recorded history.

With the crew of La Sirena Negra, a score of psychic cats, a feline-phobic robot, and a superweapon she has no clue how to use, Eva prepares to battle the unknown. But first, she has to defeat the known: mercenary Tito Santiago, whose idea of a clean fight is a shower before kill time. His mission is to ensure Eva doesn't succeed at hers.

If anything goes wrong, the universe is doomed. But if everything goes according to Eva's plans–wait, when does that ever happen?
This series is another feel-good one for me. Don't think it's all rainbows and sunshine though because it's got non-stop (life-threatening) action. The characters and their found family coupled with the humor (and also: psychic space cats) is what really easily made this one a favorite for me and I can't wait to read more of this crew's adventures.
Fault Tolerance by Valerie Valdes comes out Aug 2 from Harper Voyager
August Kitko and the Mechas from Space: Hit It by Alex White
An alien race of enormous robotic AI have destroyed most of humanity's outposts. But, on the eve of the Earth's destruction, a musician makes one last desperate attempt to reach out and convinces one of humanity's enemies to switch sides. Now, earth just might have a chance to survive…

New Alex White hell yessss!!
I'm still not quite over the Salvagers having come to an end but I also just can't wait to read White's new project. They are an auto-buy author for me but really, this book 100% screams "Me!".
August Kitko and the Mechas from Space: Hit It by Alex White comes out Jul 12 from Orbit
Damn, this was really hard to put together. Please just check out my 2022 release list of queer adult SFF and consider all those my most anticipated ones too *ahem*
Check out my friends' Blogs / Top 5 lists
What are your most anticipated books of 2022?