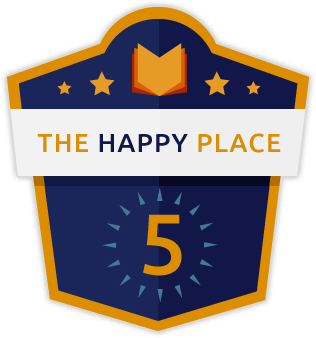 THE HAPPY PLACE 5 IS A MONTHLY FEATURE, WHERE WE LIST OUR TOP FIVE BOOKS FOR A CERTAIN TOPIC OR THEME, WITH ITS NAME ORIGINATING FROM A DISCORD GROUP CALLED THE HAPPY PLACE. YOU CAN FIND LINKS TO ALL PARTICIPATING BLOGS AND THEIR OWN TOP 5 LIST FOR THE CURRENT TOPIC DOWN BELOW.
2021 was another year of me not reading as much as I would have liked. There were simply other hobbies that kept me afloat while I couldn't concentrate on books. So even with books being pushed back and/or arriving super late for various reasons, I still have a long list of books I meant to read in 2021, but didn't get a chance to.
Usually this list would be mostly fantasy because I always pick scifi over fantasy and then regret not reading some more of all the queer fantasy books but with so many books still unread, it's definitely mostly scifi books I very much regret not having read yet.
My Top 5 Books I Meant to Read in 2021
She Who Became the Sun by Shelley Parker-Chan
I truly hate that I haven't read this one yet but I also think I will really love and appreciate this one so I rather read it at the right time.
I kept what I think will be my favorite of the sapphic trifecta for last…
In a famine-stricken village on a dusty yellow plain, two children are given two fates. A boy, greatness. A girl, nothingness…
In 1345, China lies under harsh Mongol rule. For the starving peasants of the Central Plains, greatness is something found only in stories. When the Zhu family's eighth-born son, Zhu Chongba, is given a fate of greatness, everyone is mystified as to how it will come to pass. The fate of nothingness received by the family's clever and capable second daughter, on the other hand, is only as expected.
When a bandit attack orphans the two children, though, it is Zhu Chongba who succumbs to despair and dies. Desperate to escape her own fated death, the girl uses her brother's identity to enter a monastery as a young male novice. There, propelled by her burning desire to survive, Zhu learns she is capable of doing whatever it takes, no matter how callous, to stay hidden from her fate.
After her sanctuary is destroyed for supporting the rebellion against Mongol rule, Zhu takes the chance to claim another future altogether: her brother's abandoned greatness.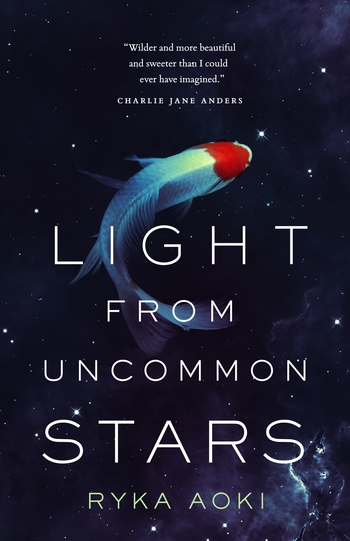 The Light From Uncommon Stars by Ryka Aoki
Pitched as "Good Omens meets The Long Way to a Small, Angry Planet", a story about trans and queer identity and this is still unread on my shelf??? SIDE-EYES SELF.

Shizuka Satomi made a deal with the devil: to escape damnation, she must entice seven other violin prodigies to trade their souls for success. She has already delivered six.
When Katrina Nguyen, a young transgender runaway, catches Shizuka's ear with her wild talent, Shizuka can almost feel the curse lifting. She's found her final candidate.
But in a donut shop off a bustling highway in the San Gabriel Valley, Shizuka meets Lan Tran, retired starship captain, interstellar refugee, and mother of four. Shizuka doesn't have time for crushes or coffee dates, what with her very soul on the line, but Lan's kind smile and eyes like stars might just redefine a soul's worth. And maybe something as small as a warm donut is powerful enough to break a curse as vast as the California coastline.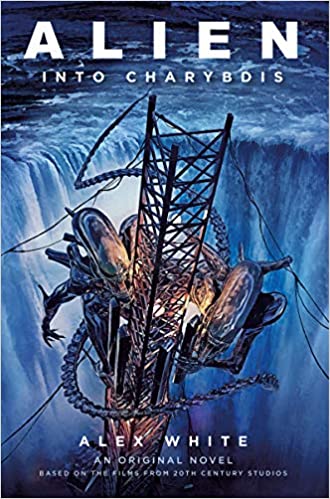 Alien: Into Charybdis by Alex White
The book got Alex's name on it, I'm gonna read it…. or plan to.
I'm just going to pretend I haven't read this yet because I am still not over the Salvagers series being over.

"Shy" Hunt and the tech team from McAllen Integrations thought they'd have an easy job – set up environmental systems for the brand new Hasanova Data Solutions colony, built on the abandoned ruins of a complex known as 'Charybdis'. There are just two problems: the colony belongs to the Iranian state, so diplomacy is strained at best, and the complex is located above a series of hidden caves that contain deadly secrets. When a bizarre ship lands on a nearby island, one of the workers is attacked by a taloned creature, and trust evaporates between the Iranians and Americans. The McAllen Integrations crew are imprisoned, accused as spies, but manage to send out a distress signal… to the Colonial Marines.
A Desolation Called Peace (Teixcalaan #2) by Arkady Martine
I loved A Memory Called Empire, the first book in the series and was so damn excited about the sequel, I can't believe I haven't read it yet. But hey, future me can look forward to an awesome read.
An alien armada lurks on the edges of Teixcalaanli space. No one can communicate with it, no one can destroy it, and Fleet Captain Nine Hibiscus is running out of options.
In a desperate attempt at diplomacy with the mysterious invaders, the fleet captain has sent for a diplomatic envoy. Now Mahit Dzmare and Three Seagrass—still reeling from the recent upheaval in the Empire—face the impossible task of trying to communicate with a hostile entity.
Whether they succeed or fail could change the fate of Teixcalaan forever.
We Could Be Heroes by Mike Chen
This book sounds very much like a Me book and I love the ones that are so very subtly queer. Having only recently read Mike Chen's new upcoming book, I know I'll love this one and I don't feel too bad about future me still being able to read this for the first time sometime in the near future.
Jamie woke up in an empty apartment with no memory and only a few clues to his identity, but with the ability to read and erase other people's memories—a power he uses to hold up banks to buy coffee, cat food and books.
Zoe is also searching for her past, and using her abilities of speed and strength…to deliver fast food. And she'll occasionally put on a cool suit and beat up bad guys, if she feels like it.
When the archrivals meet in a memory-loss support group, they realize the only way to reveal their hidden pasts might be through each other. As they uncover an ongoing threat, suddenly much more is at stake than their fragile friendship. With countless people at risk, Zoe and Jamie will have to recognize that sometimes being a hero starts with trusting someone else—and yourself.
There sure are A LOT more books I didn't make time for in 2021 and I hope I'll able to squeeze them in between all the new queer books coming out in 2022.
Check out my friends' Blogs / Top 5 lists